Title:

The Hunger Games
Author:

Suzanne Collins
Summary:
Twenty-four are forced to enter. Only the winner survives. In the ruins of a place once known as North America lies the nation of Panem, a shining Capitol surrounded by twelve outlying districts. Each year, the districts are forced by the Capitol to send one boy and one girl between the ages of twelve and eighteen to participate in the Hunger Games, a brutal and terrifying fight to the death - televised for all of Panem to see.
Survival is second nature for sixteen-year-old Katniss Everdeen, who struggles to feed her mother and younger sister by secretly hunting and gathering beyond the fences of District 12. When Katniss steps in to take the place of her sister in the Hunger Games, she knows it may be her death sentence. If she is to survive, she must weigh survival against humanity and life against love.
First off, let me start by saying that this review probably won't even begin to do the book justice, there's just so much I loved about it and could say about it that it's hard to choose what to say.
I think the reason I loved it so much was that it reminded me of things like
1984
and
V for Vendetta
- only with a different spin, it had all of that post-war, world-has-changed-for-the-worse, Big Brother type thing going on but it has a sort of
Gladiator
spin to it and I just really liked it.
It was never boring, being inside of the main characters head, the plot - there weren't really any boring parts for me, it usually bothers me when there isn't enough dialogue and the character is on their own, but for parts of the book, Katniss would be alone with her thoughts and it didn't bother me, I stayed hooked and didn't want to skim ahead (okay, I lie, sometimes I would flip a few pages to see if my favourite character would show up anytime soon, but it didn't mean the other stuff was boring - it just mean that patience is a virtue I am seriously lacking).
I fell in love with a whole bunch of the characters, too many for me to list, but the main three are Katniss, Peeta (him being my favourite) and Rue... I can't say the things I loved about the latter two without going into major spoiler mode, so I won't try, but as for Katniss - I loved her strength and maturity, I loved the fact that she was flawed and seemed real and not a Mary Sue and it's like... her personality and actions were believable, in the situation she's in and the life that she's had, it's completely believable how someone her age could be the way she is. I kind of wanted to hate her at the end of the book (if you read it, you'll understand why) but I just couldn't.
I really want Katniss and Peeta to be together! :]
I read the whole book in a few hours, I haven't done that in quite a while - read a whole book in one sitting, but I couldn't put this one down, I needed to know what happened or it'd be bugging me all the time... of course now I have to spend my time wishing for September 1st for the sequel to be released. Damn!
I have a feeling this review is getting a bit ramble-y, so I'll just sum up with; I loved it, it's awesome. Read it!
I made fan art for the book before I'd even read it (this is who I pictured as Katniss and Peeta before reading - because I had read things about the book and characters before the actual book - I still picture him as Peeta, and kind of her as Katniss, but not exactly):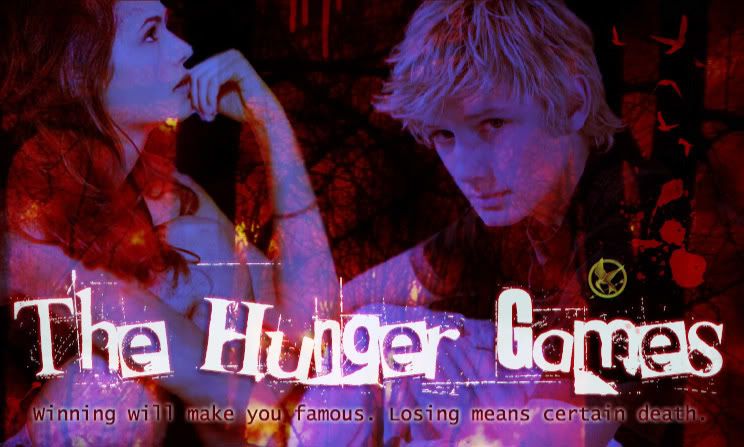 And, just for fun, I really love this fan made trailer I found for it (and I love the song):
Later.