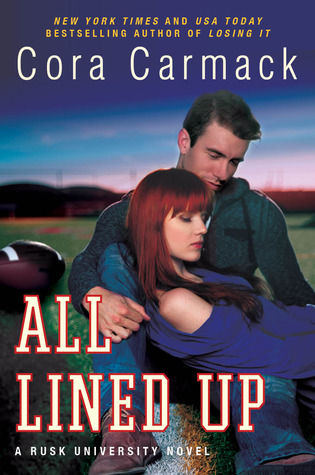 All Lined Up
Cora Carmack
William Morrow Paperback
[May 14, 2014]
New York Times and USA Today bestselling author Cora Carmack follows up her trio of hits—Losing It, Faking It, and Finding It—with this thrilling first novel in an explosive series bursting with the Texas flavor, edge, and steamy romance of Friday Night Lights.




In Texas, two things are cherished above all else—football and gossip. My life has always been ruled by both.




Dallas Cole loathes football. That's what happens when you spend your whole childhood coming in second to a sport. College is her time to step out of the bleachers, and put the playing field (and the players) in her past.




But life doesn't always go as planned. As if going to the same college as her football star ex wasn't bad enough, her father, a Texas high school coaching phenom, has decided to make the jump to college ball… as the new head coach at Rusk University. Dallas finds herself in the shadows of her father and football all over again.




Carson McClain is determined to go from second-string quarterback to the starting line-up. He needs the scholarship and the future that football provides. But when a beautiful redhead literally falls into his life, his focus is more than tested. It's obliterated.




Dallas doesn't know Carson is on the team. Carson doesn't know that Dallas is his new coach's daughter.




And neither of them know how to walk away from the attraction they feel.
So, this is technically part of the blog tour, but since I was at my parents', the internet was REALLY slow, but especially seemed to have a vendetta against goodreads? I figured I'd wait until I was back at my apartment to finish up the post and get stuff from goodreads and just post the first part earlier.
ANYWAY
Cora Carmack kind of blew me away with her first series. She was one of the first New Adult authors I read and she gets a special place in my heart for it. And this series is no different.
Cora has a real talent for making her college characters feel like college students. There were all these concerns about running into people you didn't want to and futures and scholarships and not all of it was solved. These were really problems for Dallas and Carson and some of it was worked out, but there were still some gaps because you can't solve everything easily.
And it wasn't all about sex! Of course sex played a role in the book and the main characters had a couple of steamy scenes, but it never took over the plot. It was never most of the plot. It was SO well balanced and ugh. Ugh. So much yes.
Then her writing and her plotting is just amazing. I really needed to know how things worked out with these two and their individual plots as well as the overall arc and stayed up WAY later than I intended to find out. I had such a hard time putting the book down when I'd start because it's that insanely good. I HAD to stay up until 4 am to know every. Little. Detail.
Carson and Dallas and Stella and Dallas's dad were all just so perfect and everything was perfect and I NEED THE NEXT BOOK NOW. Also can we work on more NA books involving sports? KAY THANKS.
Bottom Line: Y'all need to get yours hands on this book PRONTO.
For your patience, you get...a chance to win one of 5 signed copies of All Lined Up! ...If you live in the US (sorry about that!)
a Rafflecopter giveaway
--Julie