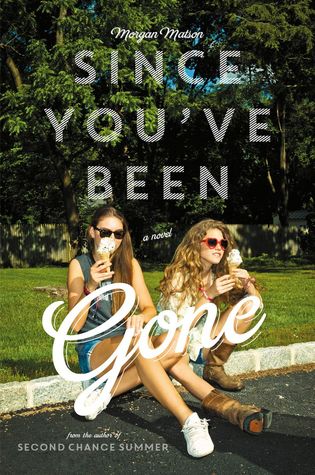 Since You've Been Gone
Morgan Matson
Simon and Schuster Books for Young Readers
[May 6, 2014]
The Pre-Sloane Emily didn't go to parties, she barely talked to guys, she didn't do anything crazy. Enter Sloane, social tornado and the best kind of best friend—the one who yanks you out of your shell.But right before what should have been an epic summer, Sloane just... disappears. No note. No calls. No texts. No Sloane. There's just a random to-do list. On it, thirteen Sloane-selected-definitely-bizarre-tasks that Emily would never try... unless they could lead back to her best friend. Apple Picking at Night? Ok, easy enough.Dance until Dawn? Sure. Why not? Kiss a Stranger? Wait... what?

Getting through Sloane's list would mean a lot of firsts. But Emily has this whole unexpected summer ahead of her, and the help of Frank Porter (totally unexpected) to check things off. Who knows what she'll find?

Go Skinny Dipping? Um...
Oh Morgan, how you pull at my heart strings every time.
The very idea of this book is a little heartbreaking. You go away and come back and your best friend - kind of your only friend - is gone without a trace and won't answer your calls and texts. But the reality that Morgan Matson writes is so much more painful. I could feel all of Emily's pain and the memories she had of Sloane were so revealing about the kind of amazing friends they were. I feel like it's so hard to find really great, genuine female friendships in YA, but Emily and Sloane are definitely in that category.
I did love watching Emily flourish without Sloane, though. By going through this list, she learns so much more about herself and really comes out of her shell. Emily becomes a more daring, extroverted person with an unlikely gang of friends, Frank Porter, Collins, and Dawn. And these friends are so willing and eager to take her under their wings and help her finish off this list Sloane made, but they never insulted Sloane either. They got that she was important to Emily.
SPEAKING OF her friends - they were so good for her. Collins and Dawn and Frank Porter were all accidentally friends with her, but they were really loyal and true to their beliefs. Their friendship was willing to do whatever it took for Emily, but they did have lines that she had to learn.
And Frank Porter. Much like Matt Finch, he can't be Frank or Porter, he must be Frank Porter. The stereotypical valedictorian overachiever type with an equally overachieving girlfriend who volunteers to help find the code in Sloane's list. He was swoon-worthy in the nerdiest of ways. He asked Emily to teach him how to run and he helped her when her tank ran out of gas and they both understand that their families are bizarre and it's best not to ask too many questions. And these two had some majorly romantic scenes, guys. Many feels. Much swoon. Wow.
Unsurprisingly, the writing is gorgeous. Morgan Matson has such a skill with words that I will forever gush about. This book was a little bit heartbreaking but also a lot fun. I found myself laughing out loud at times and covering my face with secondhand embarrassment on others. It was amazing every step of the way. Amy and Roger's Epic Detour still might be my favorite by Morgan Matson, but this would be a REALLY close second. And Second Chance Summer is just too different from these two to be in the running.
Basically, if you don't have a life full of Morgan Matson, you're missing an important chunk of life and you should fix that.
--Julie