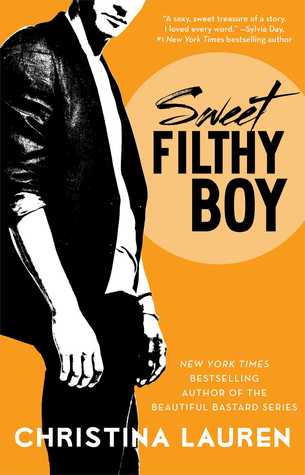 Sweet Filthy Boy
Christina Lauren
Gallery Books
[May 13, 2014]
One-night stands are supposed to be with someone convenient, or wickedly persuasive, or regrettable. They aren't supposed to be with someone like him.

But after a crazy Vegas weekend celebrating her college graduation—and terrified of the future path she knows is a cop-out—Mia Holland makes the wildest decision of her life: follow Ansel Guillaume—her sweet, filthy fling—to France for the summer and just…play.

When feelings begin to develop behind the provocative roles they take on, and their temporary masquerade adventures begin to feel real, Mia will have to decide if she belongs in the life she left because it was all wrong, or in the strange new one that seems worlds away.
I've gushed before about how much I love Christina Lauren, both as individuals and as writers. So when I heard about the Sweet Filthy Boy blog tour, I said "hell yes!" to joining and downloaded the egalley and devoured it as soon as possible. And I loved it, maybe more than the Beautiful Bastard books.
The trope they tackle is amazing - we accidentally got drunk and married and one party refuses to divorce. Thus begins Mia's transformative summer from a fate that looked miserable, but would satisfy her dad, to a possibly amazing, surreal new life in Paris with Ansel Guillaume.
I understood Mia a lot. It's not an issue I've ever had with parents' trying to push me in to a certain future, but I go to an engineering school where a lot of the engineering majors only went into it because they wanted a secure future or their parents' wanted it or other reasons that didn't equate to it being what THEY wanted. I've helped talk many friends out of doing this, especially since they're on full scholarships, so WHY waste a free degree on something that will make you miserable? So I got from page one where Mia was coming from and what a terrible idea it would be. That immediate connection pulled me in and I was gone on this ride with those two.
Ansel. Or man, Ansel. He's probably one of the most romantic, sweet, yet absolutely filthy romantic interests I've ever read. Like...dear God. He's the kind of guy you read about and there's a chance you're forever ruined for men because how does anyone stand up to that?
The writing is, yet again, fantastic. I've never been to Paris or Vegas, yet I could see everything in my head and was falling in love with Paris as Mia did. The sex scenes they write are still some of the steamiest I've ever read. The romance and Mia's journey pull on your heart strings in a physically painful way. I was utterly swept away by Christina Lauren's words and story. Words cannot do justice to my feelings for this book.
I just. Ugh. Guys. I can never express the intense love I have for Christina Lauren's books. They're so amazing and so well written and have such fantastic characters. If you're not reading their books, you're making a horrible mistake. If you like good characters, good writing, and good romance, you need to pick up their books (and start looking out for their YA, but...we'll talk about that in the fall.)
--Julie