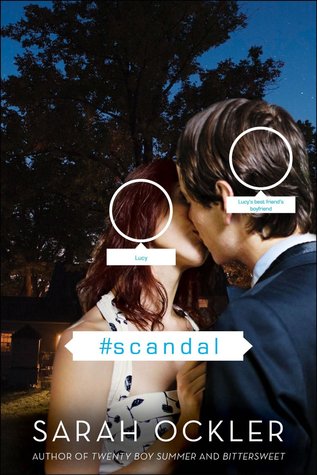 Scandal
by Sarah Ockler
Summary: Lucy's learned some important lessons from tabloid darling Jayla Heart's all-too-public blunders: Avoid the spotlight, don't feed the Internet trolls, and keep your secrets secret. The policy has served Lucy well all through high school, so when her best friend Ellie gets sick before prom and begs her to step in as Cole's date, she accepts with a smile, silencing about ten different reservations. Like the one where she'd rather stay home shredding online zombies. And the one where she hates playing dress-up. And especially the one where she's been secretly in love with Cole since the dawn of time.

When Cole surprises her at the after party with a kiss under the stars, it's everything Lucy has ever dreamed of… and the biggest BFF deal-breaker ever. Despite Cole's lingering sweetness, Lucy knows they'll have to 'fess up to Ellie. But before they get the chance, Lucy's own Facebook profile mysteriously explodes with compromising pics of her and Cole, along with tons of other students' party indiscretions. Tagged. Liked. And furiously viral.

By Monday morning, Lucy's been branded a slut, a backstabber, and a narc, mired in a tabloid-worthy scandal just weeks before graduation.

Lucy's been battling undead masses online long enough to know there's only one way to survive a disaster of this magnitude: Stand up and fight. Game plan? Uncover and expose the Facebook hacker, win back her best friend's trust, and graduate with a clean slate.

There's just one snag—Cole. Turns out Lucy's not the only one who's been harboring unrequited love...
I wasn't expecting to love this book, I wasn't even sure I wanted to read it at all after seeing some negative reviews of it but I was bored on Sunday and the book was one of last weeks
pulseit
books (they put up two books each week to read for free), and I just ended up reading the first chapter. And then the second. Then the third. Then--I think you get the point. It hooked me and I read it in one sitting (considering I was reading on the computer which is kind of hell on the eyes, that should say a lot).
So yeah, I really enjoyed the book. So much so that I will probably buy a finished copy just to have it on my shelves.
It wasn't as...issue-y as I thought it was going to be. And it was way more funny than I expected it to be, like I laughed out loud quite a few times and my face hurt from smiling by the time I got to the end. And the characters...I ended up loving characters I never expected to and it was just- I really, really liked it.
I mentioned I'd seen negative reviews and a lot of them complained about the romance, that it wasn't present enough and that they didn't feel it developed enough because Lucy was already in love with the guy when the book startet. Well, I disagree with those negative reviews. I ended up really loving that the Cole thing wasn't the only focus, I loved that friendships and her relationship with her sister got to share the limelight and some of those parts ended up being my favourite.
I still loved the romance, and it was really well done--I never for a second doubted Lucy's feelings because we weren't just told she felt something, it felt like we were shown in the way the characters were with each other (sometimes when the book starts with the main character already in love with a guy, it can feel a bit insta-love but Sarah Ockler was really good at jumping into the part where the love is already there and making it convincing). I would've happily read more interactions between Lucy and Cole, but I loved what the book gave us.
And the writing... I loved the writing. The dialogue felt really genuine and funny and there were quite a few quotes that I marked for being lovely.
Honestly, the only thing I didn't love was that a certain thing in the book was a bit too Gossip Girl...I mean, it worked, but it was ruined by the fact that it'd been done before basically.
So yeah...I really, really enjoyed the book. It was surprisingly funny and fun and had a great cast of characters that I'd love to hang out with if only they were real. I'd rate the book 4 stars out of 5 (maybe 4.5).
Later.