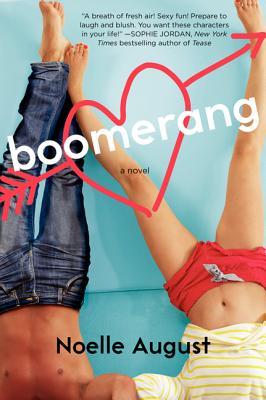 Boomerang
Noelle August
William Morrow Paperbacks
[July 8, 2014]
Welcome to Boomerang.com, the dating site for the millennial gen with its no-fuss, no-commitments matchups, and where work is steamier than any random hook-up

Mia Galliano is an aspiring filmmaker. Ethan Vance has just played his last game as a collegiate soccer star. They're sharp, hungry for success, and they share a secret.

Last night, Ethan and Mia met at a bar, and, well . . . one thing led to another, which led to them waking up the next morning—together. Things turned awkward in a hurry when they found themselves sharing a post hookup taxi . . . to the same place: Boomerang headquarters.

What began as a powerful connection between them is treated to a cold shower courtesy of two major complications. First, Boomerang has a strict policy against co-worker dating. And second, they're now competitors for only one job at the end of summer.

As their internships come to an end, will they manage to keep their eyes on the future and their hands off each other, or will the pull of attraction put them right back where they started?
This book was So. Much. Fun.
I've been in a bit of a slump lately. I pick up books and they're excellent, but I can't get into them...unless they're contemporary or romances. Especially if they're NA or historical. But YA, anything non-contemp.? Takes me AGES to get through. So when I picked up BOOMERANG and read the whole thing in a day, I was kind of thrilled and realized this book did things for me.
It's genuinely funny. I laughed out loud a few times, which I rarely do with books. Comedy is generally hard to find in novels, I've noticed, so when I do find it, I cling on for dear life and fall utterly in love.
BOOMERANG, while a romance, still features a lot of family dynamic. Ethan's family isn't on screen pretty much at all, but they were still clearly important. We understood their relationship and where Ethan stood with them after just one phone call and certain things really stuck with him and were hugely defining character moments. Mia's family, on the other hand, is front and center to all the action. Her mother's eccentric and her father's just trying to figure out how to manage her and they're a weird couple, but they work so well together. I loved getting this family time and really seeing the ebb and flow of these families and how they tied in to how Mia and Ethan were in a positive way.
Which is another major note I want to touch on. A LOT of New Adult features "broken" characters who have been hurt or betrayed or crushed or have horrible back stories/family lives. And there's without a doubt a place for them in fiction! It's a great age range for these kinds of works. HOWEVER, we also need books with perfectly normal characters who aren't "damaged" severely. Because that's life and if we're looking at contemporary fiction, we need some reality. That's not to say Mia and Ethan have had 100% easy lives and no hold ups, but they weren't the kind that shadowed everything they did and made them stay apart from each other. And that's what I prefer in my New Adult, so it's always noteworthy when I find it.
There is still a forbidden aspect to the relationship, but the kind I like a lot more. Forbidden romances do it for me, but only if it's an EXTERNAL thing, not one or both characters being like "I IZ BROKEN!!! CAN NEVER LOVE AGAIN!!!!!" (paraphrasing kind of). So I loved that aspect of it and the "got together OOPS WE'RE COWORKERS AND COMPANY POLICY SAYS NO" trope will always be one of my favorites for that reason. Then there's the amazing chemistry between Ethan and Mia. It was SO clear how into each other they were and they were so cute together. Ethan was such a good guy and Mia was so clever and determined. Both of them did some sneaky things to get ahead, but it just further showed how good they were together.
I loved how everything worked out. I thought I knew earlier on in the story where it was going to end, but I was kind of off and I think it went somewhere even better for both of the characters.
Overall, this was a really fun read with some elements that I don't often find in NA and was really glad to see. It was sexy and interesting and a quick one as well. I will definitely be picking up the other books in this series!
--Julie