So, I don't normally join in with the whole
Top Ten Tuesday
thing (not because I don't like it, I just tend to forget really) but seeing as the review I was going to post today isn't ready to go up yet, I figured I would this week.
"Top Ten Books People Have Been Telling You That You MUST Read (whether because they think it's a "you" book or it's just been generally recommended so often)"
1.
Game of Thrones
by George RR Martin - At this point, I'm not convinced I'll ever read the books. I love the show and I own the first book, but anytime I've started reading it I've gotten bored and put it down. Now, that may just be because the beginning is incredibly dull, but the fact that I've already seen the show and know how the story goes (mostly, I know there'll be differences) makes me lack the motivation to push through that slow start.
2.
Inkheart
by Cornelia Funke - I don't think I've seen a bad review of this yet and
I do own the book, but I just...I don't know why I haven't read it yet. I can't even remember who first recommended it.
3.
Pride and Prejudice
- I own multiple copies of this and my issue is similar to the GoT thing--started a bunch of times, but just kept putting it down. I love the characters, love the story, love parts of the writing...but the writing style in general can make it a bit tedious to get through. Once I've read it for a while, I get used to it, the problem is I normally get bored before I reach that point (again, like GoT, already knowing how the story goes doesn't help).
4.
Wuthering Heights
- This is my best friends favourite book. And I think it's the favourite of one of my favourite booktubers too. And I love most of the adaptations I've seen, but the writing style--aside from a few beautiful quotes--has always put me off before I got far into it.
5.
A Clockwork Orange
by Anthony Burgess - Both of my best friends love this book (and the movie). I think it's the movie that put me off really (not the subject matter, it's hard to explain what bugs me about the movie--it's more the dated 70's feel and the accents, reminds me of an awful movie I loathe), but they've always said I should read it.
6.
Outlander
by Diana Gabaldon - People on a forum used to recommend this all the time and everyone and their mother seems to love it. I never picked it up mostly because 1) phonetically written Scottish accents (pet peeve) are likely and 2) issues with the author. Julie and I are probably going to do a read-a-long for it, purely because we enjoyed the first episodes of the show.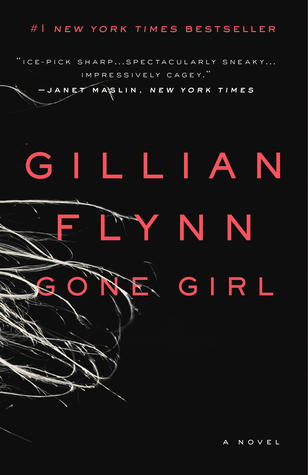 7.
Gone Girl
by Gillian Flynn - Everyone seems to love this, so if I ever read it, I will probably be
disappointed purely because I just doubt it could be as good as everyone says it is.
8.
Books by Patrick Ness
, particularly the Chaos Walking trilogy - I own the trilogy, but everyone always raves about his books and I've just not gotten round to reading them. I started The Knife of Never Letting Go last year or something but I was going through my "I'm so done with dystopia" phase (still thoroughly in that phase) so I didn't get far into it.
9.
Fight Club
by Chuck Palahniuk - I love the movie, but I've been told by some people that it's one of the rare occasions where the movie is better. Still, people keep recommending the book (I do own it), including my best friends.
10.
Sarah Dessen books
- I own 6 or 7 of her books but I've only read Someone Like You and This Lullaby, I've just never gotten round to reading the others. Everyone always has good things to say about them though (I've heard from a lot of people that Just Listen and The Truth About Forever are her best). My best friend says they're really good too and she's fussy with chick lit (it was actually my copies that she borrowed and read).
Have you read any of these? Like them? Hate them?
Later.