Note: This is the third in the series...the review is spoiler free for the first books, but the summary won't be.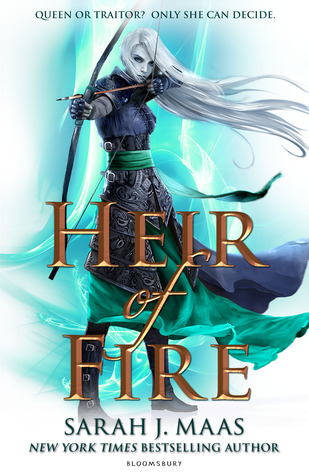 Heir of Fire
by Sarah J Maas
Summary: Lost and broken, Celaena Sardothien's only thought is to avenge the savage death of her dearest friend: as the King of Adarlan's Assassin, she is bound to serve this tyrant, but he will pay for what he did. Any hope Celaena has of destroying the king lies in answers to be found in Wendlyn. Sacrificing his future, Chaol, the Captain of the King's Guard, has sent Celaena there to protect her, but her darkest demons lay in that same place. If she can overcome them, she will be Adarlan's biggest threat – and his own toughest enemy.

While Celaena learns of her true destiny, and the eyes of Erilea are on Wendlyn, a brutal and beastly force is preparing to take to the skies. Will Celaena find the strength not only to win her own battles, but to fight a war that could pit her loyalties to her own people against those she has grown to love?
So... I really loved this book (like
it would already be sitting on my favourites shelf if it wasn't an e-galley I read
--that kind of loved it) but it wasn't easy getting to that point.
It took me about a month to get through the first 30-40% of the book...and then two days to speed through the rest. That first chunk of the book was torturously slow and pretty boring at times, and the POV switches bugged me (but that's just a general book pet peeve, it wasn't that it was badly done in this one).
But then, once I pushed through that drag in the beginning, it just clicked. It got interesting and then it got awesome, and then it got
really
awesome and now I pretty much hate Sarah J Maas for writing such a good book and leaving me pining desperately for the sequel (except not hate, more like adore).
Celaena is a fantastic character. I've liked her from the first book, but she's one of those characters that can be frustrating. She was really frustrating at times in this book...for reasons I can't explain without spoilers...but she grows and changes and becomes this really awesome character and because getting there wasn't easy for her, because it was a struggle and she is flawed, it made me like her character her even more. And I loved that we got to know a bit more about her history and the reasons she is the way she is.
I can't wait for the rest of the series now because while I went into this book thinking I wanted her to stand up an announce to the world who she is and fight right away, I know now that this book was so necessary because she needed that journey as a character before she was ready for that.
And then there's the other characters, especially the new ones. Rowan is just awesome and I love the bond that forms between him and Celaena, that was the highlight of the book for me...I could happily read a book of just those two hanging out and annoying each other.
I really liked Aedion and Manon too (her POV's were weird, because most of the time when I put the book down and didn't go back to it for a while, it was when it reached her POV's... and yet when I was actually reading those chapters, I got totally caught up in them--I think the issue may have just been my aversion to alternating POV's and because her chapters strayed a lot from the rest of the story, getting to them always bugged me more even if I did enjoy them once I got into them).
I think that's all I can say about the book without giving spoilers really, but if you're like me and you're struggling through that first bit of the book, stick with it because all the 5 star reviews aren't exaggerating how awesome the book is. Consider this another one--I'd rate it 5 stars out of 5.
Later.