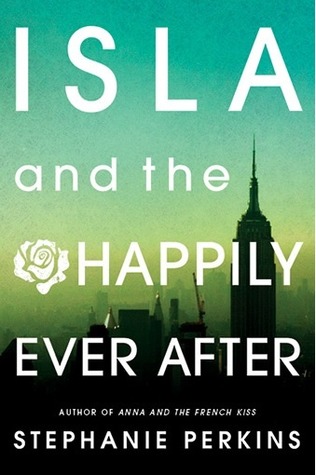 Isla and the Happily Ever After
by Stephanie Perkins
Summary: Hopeless romantic Isla has had a crush on introspective cartoonist Josh since their first year at the School of America in Paris. And after a chance encounter in Manhattan over the summer, romance might be closer than Isla imagined. But as they begin their senior year back in France, Isla and Josh are forced to confront the challenges every young couple must face, including family drama, uncertainty about their college futures, and the very real possibility of being apart.

Featuring cameos from fan-favorites Anna, Étienne, Lola, and Cricket, this sweet and sexy story of true love—set against the stunning backdrops of New York City, Paris, and Barcelona—is a swoonworthy conclusion to Stephanie Perkins's beloved series.
Well then. I love this book (more than Lola, but not quite as much as Anna).
Stephanie Perkins is just... I love her writing, I love her characters, I love the way she writes relationships (more on that in a sec) and I really, really love the way she makes the settings come to life and feel like characters themselves.
The relationship in this one... I had some issues with it. On one hand, I loved it. I loved them together and reading about them made me smile so much that my face hurt at times. The issue was how quickly it happened--it was kind of insta-love in a way, they go from not having had a proper conversation to thoroughly obsessed and throwing around
I love you
's really quickly. The way Stephanie writes it, it works, it didn't
feel
like I was reading an insta-love relationship but whenever I'd remember/be reminded how long they had actually been together, it bugged me a little how they were with each other because it made it seem more like obsession.
But...I won't say it's unrealistic, because some people do fall that fast and
know
that quickly. I just enjoy reading those relationships a bit less than the slow burning relationships.
The drama in this one was slightly more frustrating too, because it was Isla and her issues...when all the relationship drama is coming from one of the characters and their own internalised issues, it's more frustrating to read than the kind of drama that comes from external problems (which, I guess, is why I liked Anna and the French Kiss better--it wasn't a rushed relationship and the issues were less frustrating).
...Those are all the negatives I can think of, but I can't really put into words what I loved about the book (which happens quite frequently when a book is awesome, because it feels like I can't do the book justice when I try to explain why it's great). I guess I'm just trying to explain the reasons why I loved it but not as much as the first book (OH! Also, that reminds me, I loved the cameos from the characters of the first two books).
Enough rambling. This series is awesome and they're definitely on my list of all time favourite contemporary romances (and have earned Stephanie Perkins a top spot on my insta-read list). I'd rate this one 4 stars out of 5 (maybe 4.5).
Later.