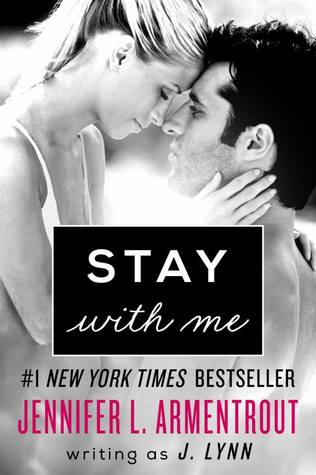 Stay With Me
J. Lynn
William Morrow Paperbacks
[September 23, 2014]
From the #1 New York Times bestselling author of Wait for You and Be with Me comes a daring tale that pushes boundaries . . .




At 21, Calla hasn't done a lot of things. She's never been kissed, never seen the ocean, never gone to an amusement park. But growing up, she witnessed some things no child ever should. She still carries the physical and emotional scars of living with a strung-out mother, Mona—secrets she keeps from everyone, including her close circle of college friends.




But the safe cocoon Calla has carefully built is shattered when she discovers her mom has stolen her college money and run up a huge credit card debt in her name. Now, Calla has to go back to the small town she thought she'd left behind and clean up her mom's mess again. Of course, when she arrives at her mother's bar, Mona is nowhere to be found. Instead, six feet of hotness named Jackson James is pouring drinks and keeping the place humming.




Sexy and intense, Jax is in Calla's business from the moment they meet, giving her a job and helping her search for Mona. And the way he looks at her makes it clear he wants to get horizontal . . . and maybe something more. Before Calla can let him get close, though, she's got to deal with the pain of the past—and some very bad guys out to mess her up if she doesn't give them her mom.
I'm a huge fan of J. Lynn's books and very eagerly signed up for this review tour. I even put off reading until this past weekend because I knew it would keep me up way late if I read it during the week and that would not be good with my new all-early-morning schedule. And it was the right call.
I loved Calla and her story. I'm usually not a big fan of the uber tragic backstories, but Jennifer just makes it work every time. And I loved the person who Calla was despite of and because of what happened to her. Watching her develop and grow was amazing and I'm so glad we got to go on that journey with her.
Jax. Mmmmm, Jax. This is another thing I'm usually iffy on in NA books, the super protective, alpha male? Because a lot of the times it just gets kinda gross and starts to feel a bit abusive, but never with Jennifer's books. Never. She has it down so well and knows how to write guys who are strong and stubborn but only when it's really important. Otherwise, they will back down. And he was just...*happy sigh*
And, of course, the writing was as addictive as ever. J. Lynn always gives me "Just ONE More Chapter" syndrome and it's kind of terrible, but I love it. I hang on every word and wait to see how she'll bring in old characters and how things resolve themselves. I think that's especially true of this novel which probably had one of the more suspenseful main plots going on that I've seen in NA. It was very dominant in the story that they were actually in a dangerous situation and that never really went away. So instead of just wanting to see the journey that would bring our main characters together, I also really wanted to know how the actual plot was going to unfold as well.
All in all, this is another amazing novel from J. Lynn that reminded me to go add all her books on goodreads. And you should do that too. Then you should preorder STAY WITH ME. Pronto.
Buy Links:
Links: