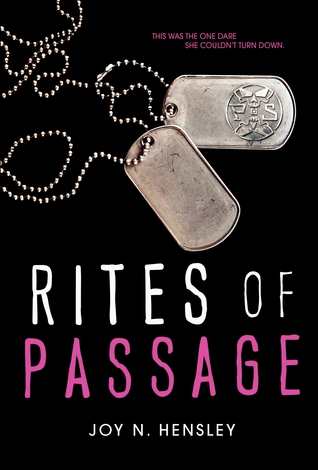 Rites of Passage
Joy N. Hensley
HarperTeen
[September 9, 2014]
Sam McKenna's never turned down a dare. And she's not going to start with the last one her brother gave her before he died.

So Sam joins the first-ever class of girls at the prestigious Denmark Military Academy. She's expecting push-ups and long runs, rope climbing and mud-crawling. As a military brat, she can handle an obstacle course just as well as the boys. She's even expecting the hostility she gets from some of the cadets who don't think girls belong there. What she's not expecting is her fiery attraction to her drill sergeant. But dating is strictly forbidden and Sam won't risk her future, or the dare, on something so petty...no matter how much she wants him.

As Sam struggles to prove herself, she discovers that some of the boys don't just want her gone—they will stop at nothing to drive her out. When their petty threats turn to brutal hazing, bleeding into every corner of her life, she realizes they are not acting alone. A decades-old secret society is alive and active… and determined to force her out.
At any cost.

Now time's running short. Sam must decide who she can trust...and choosing the wrong person could have deadly consequences.
I love contemporary, but I'm rather fickle about my contemporary. I like light contemporary - happy stories, or at the very least, stories heavy on the romance. This book does not fall under those categories. But I like Joy and my trusteds were all super into it and forbidden romance is my thing so of course I was going for it.
It was an excellent decision.
I loved Sam. I loved how loyal she was to herself. She wanted to do what was best for her, even if it was technically her brother's dare - fulfilling that dare was important to her, more than anything else. And I loved watching her develop under the challenges she faced while still remaining herself in all the best ways.
I also really loved how it became a mystery. It's clear there would be some aspects of it, but I didn't expect it to become quite as intense and page-turning of a mystery as it was. It almost felt like a political drama at times trying to figure out alliances and who knows what and what's really going on. It really hooked me and was rather unexpected on my part.
It was also incredibly raw at times. The hazing and the drills were thoroughly written and left out no detail. It hurt to read at times the things some of the students, mostly the girls, were going through and how others reacted to it. It was vividly written and painful and I think pulling that level of honest hurt takes a lot of skill.
There was an incredibly complex set of side characters, from Drill to Sam's brother Jonathan to her parents to Matthews. They all had very easy to see personalities. None of them were just cutouts or simple characters. Each one had a huge range of emotions and motivations and complicated relationships with Sam. I love when a book can balance a larger cast of characters so well. It's one of my favorite things to see and this was really done brilliantly.
Now, remember how I mentioned I like my contemporary to be romance heavy? Well, it may not be super heavy here, but there's very much romance in RITES OF PASSAGE. It's not the main plot, but it is pretty significant and wonderful and so adorable and oh my Gooooood it was lovely. And swoonworthy. Our love interest inspires all the swoons and it's forbidden and *sigh*. I loved it so much.
Then there was the ending. It's not going to work for everyone and I can understand why some people wouldn't like it, but I felt it fit the book. I really liked it because as fun as happy endings are, I really want endings that are honest to the story and the characters and, especially in contemporary, to the world it's set in. And Joy pulled it off really well.
Overall, I loved this book. It's a bit of a longer book, but I still flew through it and loved every page. I was totally hooked and I really want to see more YA like this. And NA. I'm super here for it now, so gimme moooooore but first go buy this one/get it from your library today.
--Julie