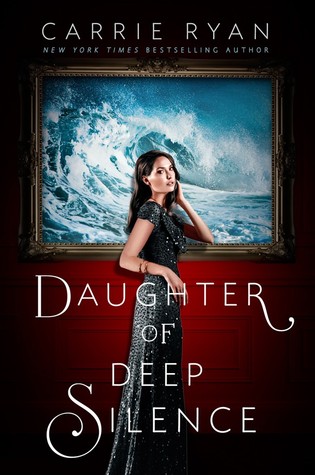 Daughter of Deep Silence
Carrie Ryan
Dutton Books for Young Readers
[May 26, 2015]
Review copy provided for blog tour/Copy picked up at BEA
I'm the daughter of murdered parents.
I'm the friend of a dead girl.
I'm the lover of my enemy.
And I will have my revenge.

In the wake of the devastating destruction of the luxury yacht Persephone, just three souls remain to tell its story—and two of them are lying. Only Frances Mace knows the terrifying truth, and she'll stop at nothing to avenge the murders of everyone she held dear. Even if it means taking down the boy she loves and possibly losing herself in the process.

Sharp and incisive, Daughter of Deep Silence by bestselling author Carrie Ryan is a deliciously smart revenge thriller that examines perceptions of identity, love, and the lengths to which one girl is willing to go when she thinks she has nothing to lose.
I'm not unfamiliar with Carrie Ryan's work; I've read her short stories and the first book in her Forest of Hands and Teeth series. I enjoyed those, but I didn't LOVE them. Still, I was intrigued by her going to a thriller contemporary. And man. Guys, no matter what you may think of Carrie Ryan's previous work, this is unlike anything she's published before.
From the first page, I was totally pulled in. This ended up being a one sitting read where I meant to read a few pages, maybe a few chapters. I also sped through it in less than 2 hours because it's a quick, fast paced read and I couldn't waste time in getting answers and seeing what Frances would do next in her plot.
We don't really get to know Frances, which is understandable with the circumstances I don't want to spoil. And me, character-development loving me, didn't even care. Carrie set up situations in a way where you don't have the full picture unless you keep reading. It really is like a puzzle without the box cover - you have these little pieces, but you have no idea what the final picture will look like or how what you have will fit together. It was so skillfully done and it forced me to never put the book down. Or think about putting the book down. Stopping reading just wasn't an option.
Frances aside, there was a pretty complicated group of characters that we had to get to know and each one had a very clear history with Frances and a lot had changed since they all first met her. Those characters all had an incredible amount of personality that helped make up for Frances's ambiguity.
There's so much more I want to say about this book, but I can't because of spoilers. It's not like other mystery books I've read or...anything I've ever read, really. It was intense and complicated and there are pieces that seemed inevitable and pieces I never would have expected. But if you're looking for a quick page turner with a plot that pulls together slowly, this is it. And since that doesn't make a lot of sense, I'll put it this way: Put this on your summer TBR and bring it on vacation. It'll fit perfectly.
--Julie