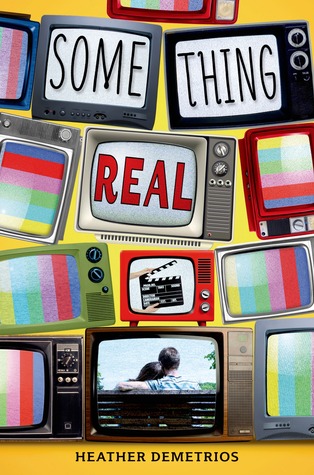 Something Real
Heather Demetrios
Henry Holt and Co.
[February 4, 2014]
Seventeen-year-old Bonnie™ Baker has grown up on TV—she and her twelve siblings are the stars of one-time hit reality show Baker's Dozen. Since the show's cancellation, Bonnie™ has tried to live a normal life, under the radar and out of the spotlight. But it's about to fall apart . . . because Baker's Dozen is going back on the air. Bonnie™'s mom and the show's producers won't let her quit and soon the life that she has so carefully built for herself, with real friends (and maybe even a real boyfriend), is in danger of being destroyed by the show. Bonnie™ needs to do something drastic if her life is ever going to be her own—even if it means being more exposed than ever before.
(Disclaimer: I read this book in February 2014 so...it's been a while.)
I'm fascinated by reality television. I don't watch a ton of reality TV regularly, but I do enjoy a handful of TLC and HGTV shows from time to time. But the idea behind it and the fact that we're so enthralled by it as a culture intrigues me. So when I heard about a book tackling the aftermath for a child reality star? I was all in.
Something Real exceeded all my expectations. It was a funny, meaningful debut with stellar characters. The sibling relationships were incredible and realistic and they played off each other so well. And Bonnie was such a great lead. She had an interesting perspective based on her previous experiences, the divorce, and the suicide attempt. It was nice to see a book where a character had mental health issues and a dark past, but she didn't let it rule her life. She had a sense of humor and had fun and was more than just her angst and depression.
I just really, really loved this book. It was fun and heartfelt and emotional and amazing. I've read Heather's books that have published since then, but this is still my favorite.
--Julie