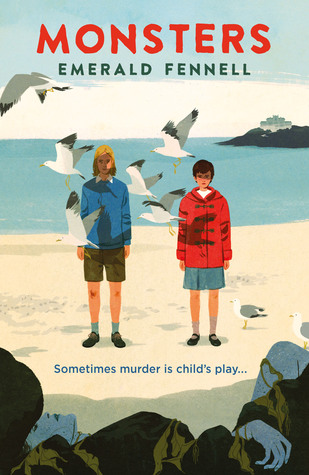 by Emerald Fennell
UK release date: September 3rd 2015
Summary: A blackly comic tale about two children you would never want to meet.

Set in the Cornish town of Fowey, all is not as idyllic as the beautiful seaside town might seem. The body of a young woman is discovered in the nets of a fishing boat. It is established that the woman was murdered. Most are shocked and horrified. But there is somebody who is not - a twelve-year-old girl. She is delighted; she loves murders. Soon she is questioning the inhabitants of the town in her own personal investigation. But it is a bit boring on her own. Then Miles Giffard, a similarly odd twelve-year-old boy, arrives in Fowey with his mother, and they start investigating together. Oh, and also playing games that re-enact the murders. Just for fun, you understand...

A book about two twelve-year-olds that is definitely not for kids.
So I didn't actually intend to read this book, but I was bored and thought since I had the book then I may as well just read a couple of pages, just to see... But then I couldn't put it down.

The book, it wasn't at all what I was expecting it to be and whenever I'd think I had it figured out, it would manage to surprise me again a few chapters later -- and I loved that. It reminded me of this bizarre little cabaret I saw at the Edinburgh Fringe Festival* last year, it had all the quirk and charm and dark humour that the show had.

Initially, I thought it was going to be like that the whole way through, but then it introduced more serious things in this really subtle way, and I found myself unexpectedly caring about the main character and found that she had more depth and heart than it initially seemed...and yet it never lost that dark humour or oddness that it had in the beginning.

The plot -- it's one of the least predictable books I've read in a while, especially the ending, and I appreciate it so much more because of that.

Basically, the book surprised me in a good way, it totally shattered all my expectations. It's not a book I would ever have chosen for myself, but I'm glad I read it. I'd rate it 4 stars out of 5.

Later.
*The show I mentioned? The Twins Macabre, they were hilarious and I really recommend checking out one of their shows if you ever get the chance.