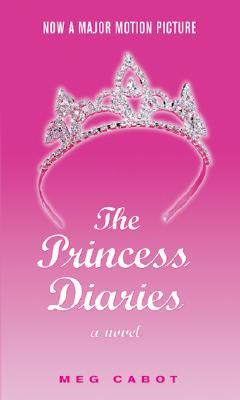 I have a thing for royalty. It's part history love, part Disney love, part fantasy of being a princess love, and part love of the British royal family. And while YA fantasy is full of royalty (and I love it), I'm way more interested in the contemporary stories. Because who doesn't want to pretend they'll get to be a princess and be reminded how complicated it could be? Or maybe it's just growing up on The Princess Diaries.
But...there's not a ton out there. And lately, I've noticed more and more demand for it, especially with the recent release of a certain book. So, I'm going to round up some of my recs and others that I know about for everyone's convienence.
Julie Approved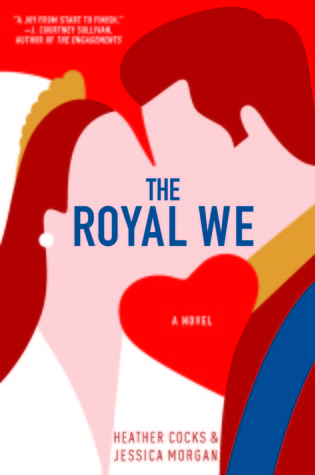 The Royal We by Heather Cocks and Jessica Morgan
This incredible, funny, sexy reimagining of Will and Kate's love story started capturing hearts across the book blogging world earlier this year, my own included. I requested it on Netgalley and have a finished copy and really, I cannot gush enough about this book, nor will my demands for sequels, companions, and books in the same vein from these two authors (also known as the Fug Girls) ever cease. This book is amazing and a perfect starter for everyone who grew up with Mia Thermopolis and The Prince and Me movie.
This movie though.
Some Like It Royal by Heather Long
This New Adult is a short, fun read about a struggling actress who didn't know she was royalty and a guy who could really use some blue blood to impress some investors for his company. Y'all can see the complications - and the romance - that can dawn here, right? It was adorable and smart and I loved book one and cannot wait to get to the other books in the series.
A Royal Pain by Megan Mulry
Megan Mulry kicks off a sexy, funny, incredible series with A Royal Pain, and it's probably one of the closest matches to The Prince and Me movie I've found. Career minded girl meets royal boy...but she doesn't know it until after they fall in love. I loved this book so much and the sequel is just as good! I have the next two books on my never ending TBR pile and I cannot wait to get back into them.
Suddenly Royal by Nicole Chase
This book single handedly resparked my love of royal contemporaries when I read it a few years ago. I reviewed it here. This book had a mix of The Prince and Me and Princess Diaries feel to it. I loved it so much and eagerly gobbled up the sequel. It didn't have the same magic for me, but was still pretty good.
Royally Crushed by Niki Burnham
So, first of all, we're back to the YA. Secondly, you can get all three books in this series in a paperback bind up, so that's a steal, you know? It's not amazing or mind blowing. It was predictable, but cute and fun as a high school girl finds out being royalty isn't all it's cracked up to be.
Pulling Princes/A Royal Match by Tyne O'Connell
When I read these books, I read it as four individual books, starting with Pulling Princes. Now, it's most easily found as two bind ups, A Royal Match and A Royal Mess. The whole series is about an American going to boarding school, trying to impress the wealthy, titled class mates and falling in love with the prince of England in the process.
But dating a prince is complicated and other guys...aren't. The series covers several years of the main character's life and had a really unexpected ending. I absolutely loved this series and how quirky and different it was and cannot recommend it enough.
Not Julie Approved
There are still plenty of other books I haven't read (not including some of the sequels/companions to these books), so I can't tell you if they're any good, but I'm excited to check them out!
Royal Pain by Danielle Doolittle
This one sounds really different. Prince Harry ends up in rehab when he meets a commoner, who obviously expects a trouble maker since she works there. It's also a novella, which I can already tell is going to upset me because it's going to END SO SOON. But it sounds adorable and the cover is also adorable so...I'm gonna have to read it.
Royally Lost by Angie Stanton
A high school girl dragged on a family trip across Europe, desperate for home. A runaway prince who just wants his freedom. This sounds SO cute! I've heard a lot of mixed things about the author, which is probably what put me off the most, but I'm still pretty excited to check it out for myself because how much fun could this European adventure be?
Part-time Princess by Pamela DuMond
When Lucy's hired to pretend to be a royal and keep a prince interested until the real royal can arrive, only to meet a second prince she has a history with, what's she to do? This sounds very Midsummer Night's Dream-esque, which is my favorite Shakespeare play. I adore these kinds of major mix ups and I know there's more after this book, so it sounds like a win for me!
Royal Wedding by Meg Cabot
This almost seems silly to include, but just in case you didn't know there was a new, adult book about Mia Thermopolis's wedding, here's your heads up. It exists. I bet it's awesome. I really need to get on it.
Something in the Heir by Jenny Gardiner
Prince Adrian needs a girlfriend to get his mother off his back about marriage to a girl he doesn't want. Emma the photographer needs an escape for her own reasons. Add on to that that Jenny Gardiner has a Meg Cabot endorsement? I'm interested in finding out what this book's all about.
To Catch a Princess by Caridad Piñeiro
A princess being forced into an arranged marriage with another royal. A Grand Duke living incognito as a cop and in love with his best friend's sister. Can we guess where this one's going? My guess is that it's going straight to adorable fun town. I'm very, very here for it.
The Runaway Princess by Hester Browne
This one's VERY Prince and Me. A young prince in disguise falls in love and the civilian he falls in love with quickly becomes disenchanted with the world of royalty, which is way too different from what she grew up with. It's also commonly rec'd when it comes to royal contemporary ones. It's been around a while.
To Marry a Prince by Sophie Page
A meeting in a midnight garden kicks off another realization about just how miserable royal, public life can be (man, these authors are REALLY trying to kick us out of the idea of being royal). Although, the wedding dress scandal in particular appeals to me and all my Say Yes to the Dress marathoning.
Scandal with a Prince by Nicole Burnham
A one night stand with an engaged prince ends with a pregnancy. She didn't know he was engaged, or a prince, and she doesn't know she's pregnant. Ten years later, they meet again. I'm SUCH a sucker for romances that involve kids because of the added dynamic so this one sounds like something I could be alllllll over.
The Cinderella Princess by Melissa McClone
A strong-willed, independent executive has to find a bride for a playboy prince. He only has eyes for her, but she has to find him a royal princess...on reality TV. There's just so many good tropes here. SO MANY. I need the book.
Royal Date by Sariah Wilson
Prince saves girl on the ski slope. She's pretty against anything further happening, but he offers her a job writing about the country if he can be her personal tour guide. She agrees, as long as there's no kissing. But just how LONG will this no kissing rule last? I'm betting not long. But that's just me.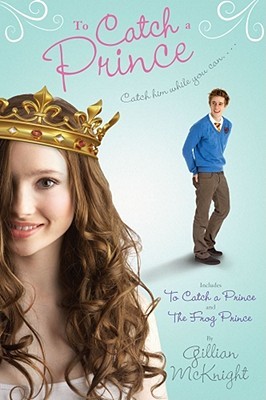 To Catch a Prince by Gillian McKnight
This is an omnibus of two books about step sisters heading to Europe, ready to meet their princes and
claim their crowns...except none of the cute guys have titles. Bummer, right? There aren't many YA royal contemporaries (as you can see), so I feel obligated to check this one out at some point.
So, that's all I've got! Besides all the sequels/companions to these books. Am I missing any royal romances? Are there any that I should be bumping up my TBR pile? Or should I just keep rereading The Royal We because it's THAT good (and it is, oh it is).
--Julie