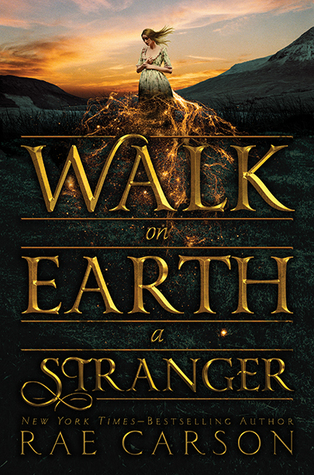 Walk on Earth a Stranger
Rae Carson
Greenwillow Books
[September 22, 2015]
The first book in a new trilogy from acclaimed New York Times bestselling author Rae Carson. A young woman with the magical ability to sense the presence of gold must flee her home, taking her on a sweeping and dangerous journey across Gold Rush–era America.

Lee Westfall has a secret. She can sense the presence of gold in the world around her. Veins deep beneath the earth, pebbles in the river, nuggets dug up from the forest floor. The buzz of gold means warmth and life and home—until everything is ripped away by a man who wants to control her. Left with nothing, Lee disguises herself as a boy and takes to the trail across the country. Gold was discovered in California, and where else could such a magical girl find herself, find safety? Rae Carson, author of the acclaimed Girl of Fire and Thorns trilogy, dazzles with this new fantasy that subverts both our own history and familiar fantasy tropes.

Walk on Earth a Stranger, the first book in this new trilogy, introduces—as only Rae Carson can—a strong heroine, a perilous road, a fantastical twist, and a slow-burning romance.
I was pretty disappointed in this book, honestly. But it was me. It was well written and full of genderbending and had a lot of amazing characters and development but it wasn't what I was expecting.
When I first heard about this book, to me it sounded like a fantasy YA inspired by the Gold Rush. Which was exciting to me because I don't particularly like American history and the Gold Rush is one of those really boring phases to me, but with Rae Carson and a fantasy lead, it would surely be better! But...not so much. Instead, I got a historical fiction YA about the Gold Rush with a fantasy twist. Which...doesn't interest me. So I just wasn't particularly interested in the story.
Rae Carson is still an excellent writer and she does some really great things in this book. I really liked Lee and the cast that's built around her. Rae doesn't pull any punches in making a dark, very twisted story and it's clear that it's only going to keep going in the sequels. It's a perfectly good book and I wish I liked it, but I just didn't want this story and I wish I'd thought to look at the description better before picking it up. I might just sit this one out and wait for Rae Carson's next series.
--Julie