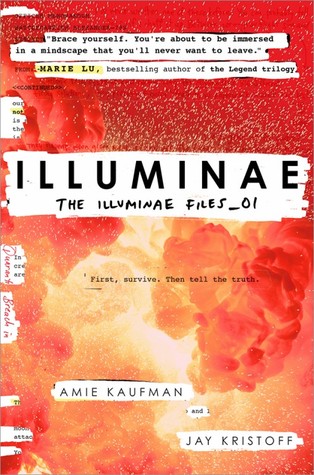 Illuminae
Amie Kaufman and Jay Kristoff
Knopf Books for Young Readers
[October 20, 2015]
This morning, Kady thought breaking up with Ezra was the hardest thing she'd have to do.

This afternoon, her planet was invaded.

The year is 2575, and two rival megacorporations are at war over a planet that's little more than an ice-covered speck at the edge of the universe. Too bad nobody thought to warn the people living on it. With enemy fire raining down on them, Kady and Ezra—who are barely even talking to each other—are forced to fight their way onto an evacuating fleet, with an enemy warship in hot pursuit.

But their problems are just getting started. A deadly plague has broken out and is mutating, with terrifying results; the fleet's AI, which should be protecting them, may actually be their enemy; and nobody in charge will say what's really going on. As Kady hacks into a tangled web of data to find the truth, it's clear only one person can help her bring it all to light: the ex-boyfriend she swore she'd never speak to again.

Told through a fascinating dossier of hacked documents—including emails, schematics, military files, IMs, medical reports, interviews, and more—Illuminae is the first book in a heart-stopping, high-octane trilogy about lives interrupted, the price of truth, and the courage of everyday heroes.
I didn't know what to expect from this book. I wasn't really feeling it because I'm not a big fan of different formats of writing - it takes a lot for diary entries or letters or emails to work for me and this book was only gonna be non-straight-up-prose formats. But everyone wanted this damn books and Random House was giving out something absurd like 2,000 hardcover galleys at BEA (HARDCOVER GALLEYS) so clearly this had to be something amazing and I had to check it out. I'd decided to pick it up on one of the last days at BEA (because it's a 600 page hardcover), but a friend got a duplicate and offered to give me her extra so I took her up on that generous offer that meant not carrying it. Then I suffered a massive, massive reading slump all summer long. I couldn't finish a book, but everyone kept going on and on about how amazing this one was. So, shortly before leaving for London, I picked it up.
It was slow goings, at first. The format really didn't suit me and I just didn't feel invested in the plot. I sat and ready the first 150 pages in two sittings a couple days a part. Then something happened and I was hooked. I can't even remember what exactly it was or what changed, but suddenly I was sitting and reading the rest of the book - 450 pages - in one sitting.
The characters were all rich and full figured and remarkable. For the most part, there were no good or bad people. They were all just people. I fell in love with Kady and Ezra and the idea that they were very much regular teens when all this happened and no matter what happened, they didn't fully lose the fact that they were just teenagers. And honestly, even the AI wasn't all bad. It was just as full a character as Ezra and Kady were. These full characters made for really interesting relationships that were constantly changing among all the characters.
Amie Kaufman and Jay Kristoff were also not afraid to pull any punches. They were willing to go in all kinds of directions you couldn't see coming, to kill off as many darlings as they felt necessary in any manner, and the ending? Oh man the ending was brutal, guys. Absolutely brutal. It's been quite a time since I finished, and I'm still not over it.
As a non-believer in the untraditional book formats, I also have to be clear that I was won over. Kaufman and Kristoff took untraditional to lengths I never could've predicted and it hurt a little bit to think about how they were formatted, honestly. It was intricate and complicated and I don't even know how they came up with it. And in this instance, it completely and totally worked.
Illuminae is going to hurt to read. Knowing book 2 is a year away is rather painful for me and it likely will be for you too. But I feel quite confident in saying that it lives up to the massive hype and the massive budget they put into it and it truly is unlike anything you've ever read and it will make you think quite a bit. Good luck reading it.
--Julie