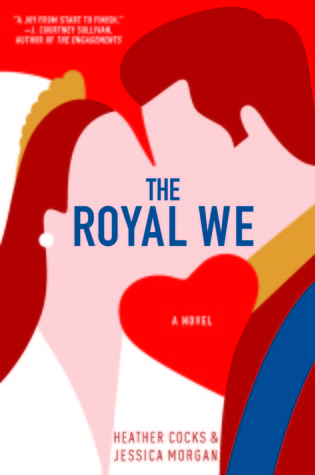 The Royal We
Heather Cocks and Jessica Morgan
Grand Central Publishing
[April 7, 2015]
egalley/finished copy from publisher
American Rebecca Porter was never one for fairy tales. Her twin sister, Lacey, has always been the romantic who fantasized about glamour and royalty, fame and fortune. Yet it's Bex who seeks adventure at Oxford and finds herself living down the hall from Prince Nicholas, Great Britain's future king. And when Bex can't resist falling for Nick, the person behind the prince, it propels her into a world she did not expect to inhabit, under a spotlight she is not prepared to face.

Dating Nick immerses Bex in ritzy society, dazzling ski trips, and dinners at Kensington Palace with him and his charming, troublesome brother, Freddie. But the relationship also comes with unimaginable baggage: hysterical tabloids, Nick's sparkling and far more suitable ex-girlfriends, and a royal family whose private life is much thornier and more tragic than anyone on the outside knows. The pressures are almost too much to bear, as Bex struggles to reconcile the man she loves with the monarch he's fated to become.

Which is how she gets into trouble.

Now, on the eve of the wedding of the century, Bex is faced with whether everything she's sacrificed for love-her career, her home, her family, maybe even herself-will have been for nothing.
I think it's pretty clear that this is a Julie book. If it wasn't, you may have noticed it was one of my top books of 2015. And now I can tell you exactly WHY that is, many months later, because the feels are STILL SO INTENSE
So, this is, essentially, a very loose retelling of Kate and Will's romance. There are some parts that line up so well - particularly in the beginning, but mostly in the general route of the story - and then there are other parts that completely veer off. It was kind of like the perfect mix of The Prince and Me and the actual story and it was just so perfect.
I loved every single character in this book. All of them were so well rounded and they had wonderful relationships. Bex was SUCH a fan character to ride along with. She was complicated and lovely and intelligent and just wanted to live her LIFE until this perfect guy comes along being a prince or whatever (but also Nick was almost perfect so I can't blame her). And of course there's Freddie, the wonderful younger brother to the prince who really did remind me of Harry in so many ways.
It was so romantic and swoony and funny. But also I cried...several times. Everything about this book screamed cute, chick-lit but then the feels were SO INTENSE and it got darker and I just I CARED SO MUCH GUYS. It was one of the most emotion-packed reads I've ever picked up because I was so engaged and so invested in these characters and the writing was so smart and I'm still so in love.
This is Not a Short Book by any means and I completely devoured most of it in one sitting, it was that enthralling. Like, 300-400 pages in one go because I could not put it down. It was absolutely perfect. I'm now absolutely desperate for not only more books like this, but more books in this series by these authors. Because really, I could not have loved it more. I read this book almost a year ago and I still care about this book and these characters so much it hurts and I kind of want to ditch all my plans and reread it right now. Please, please, please, if I have not already convinced you to read this book, do it!
--Julie