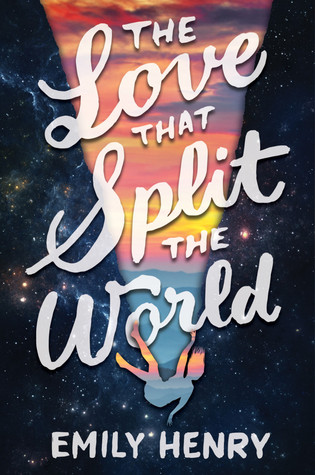 The Love That Split the World
Emily Henry
Razorbill
[January 26, 2016]
Natalie Cleary must risk her future and leap blindly into a vast unknown for the chance to build a new world with the boy she loves.

Natalie's last summer in her small Kentucky hometown is off to a magical start... until she starts seeing the "wrong things." They're just momentary glimpses at first—her front door is red instead of its usual green, there's a pre-school where the garden store should be. But then her whole town disappears for hours, fading away into rolling hills and grazing buffalo, and Nat knows something isn't right.

That's when she gets a visit from the kind but mysterious apparition she calls "Grandmother," who tells her: "You have three months to save him." The next night, under the stadium lights of the high school football field, she meets a beautiful boy named Beau, and it's as if time just stops and nothing exists. Nothing, except Natalie and Beau.

Emily Henry's stunning debut novel is Friday Night Lights meets The Time Traveler's Wife, and perfectly captures those bittersweet months after high school, when we dream not only of the future, but of all the roads and paths we've left untaken.
I've been excited for this book for ages. Time travel? Romance? Then it got that cover. THAT COVER. But I worried. This was one of my most anticipated reads of the year - what if it didn't live up to the hype?
Oh, but it did. This book consumed me in a way so few have. It was an all time favorite before I even finished - and some of that may have had to do with when I read it.
I have to start with the writing. The writing was mind blowingly gorgeous. There were so many passages that were beautiful and heartbreaking. I was so enamored that I read most of it on the train and kept getting aggravated by texts interrupting me, even though they were kind of important. And despite being exhausted by a full day at ALA and six hours of traveling, I stayed up until I finished it. Because there was no question of me waiting to finish.
Helping to tell the story, origin stories were woven in - largely inspired by Native American origin stories. They added to the beauty of the book as a whole. Some were simple, short stories, while others were incredibly complex and in depth and they all were so interesting. It really added this later to Natalie - who is Native American - and the story. (EDIT 3/16: I've learned that the representation of Nat's Native American background, as well as the inclusion of the origin stories, is really problematic. Which is something you may want to consider when picking up this book. You can find more details here [the link won't let me go directly to the post, but it's the first post from the week of January 17], and that website is also an excellent source in general for

Native American rep and information.)
I loved the story of Nat and Beau. They had such a fascinating origin story of their own. There was some insta-love type action which is usually kinda off putting, but it didn't feel forced or fake. I didn't even think about it until mid-way through reading and then I didn't really care. But they were also interesting characters on their own. Nat was adopted by a white family as an infant and she's trying to figure out who she is, what she wants, and if she's going crazy. Beau is a boy with a rough family life and conflicting loyalties. I loved getting to know them and watching them grow.
A lot of my favorite bits I can't discuss without spoilers, but the ending and the logic were so interesting and unique. Things unfolded masterfully and in a way I never could've imagined. I'm gonna leave it there though.
Ultimately, this novel is an origin story for Nat, mixed with origin stories of the world. It was beautiful, romantic, and such a wonderful story of family. And I got to read it as I left behind friends, many who I hadn't seen in months and a few I hadn't seen in years and some I met for the first time and was feeling light and happy. Sitting down and reading this in the frenzy that I did brought me back down and made me think, but also let me keep the wonderful high I was riding. I absolutely loved every second of the reading experience and while this book won't work for everyone, it's definitely one I recommend checking out. Emily Henry has pretty much guaranteed herself I'll be buying all of her future books already.
--Julie