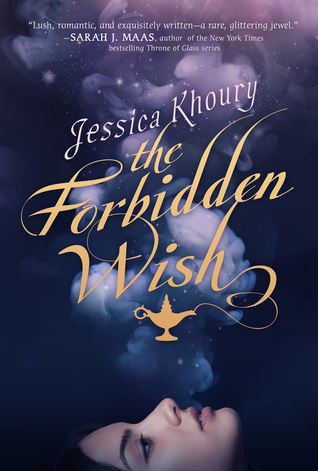 The Forbidden Wish
Jessica Khoury
Razorbill
[February 23, 2016]
She is the most powerful Jinni of all. He is a boy from the streets. Their love will shake the world...

When Aladdin discovers Zahra's jinni lamp, Zahra is thrust back into a world she hasn't seen in hundreds of years -- a world where magic is forbidden and Zahra's very existence is illegal. She must disguise herself to stay alive, using ancient shape-shifting magic, until her new master has selected his three wishes.

But when the King of the Jinn offers Zahra a chance to be free of her lamp forever, she seizes the opportunity—only to discover she is falling in love with Aladdin. When saving herself means betraying him, Zahra must decide once and for all: is winning her freedom worth losing her heart?

As time unravels and her enemies close in, Zahra finds herself suspended between danger and desire in this dazzling retelling of Aladdin from acclaimed author Jessica Khoury.
I've always loved Aladdin and I read all the retellings I can find, so I was so excited when I was offered up this one. And it lived up to my expectations in so many ways.
I'd never read one of Jessica Khoury's books before and her writing is so gorgeous. She paints some beautiful, luxurious scenes and the clothes she describes take my breath away

. I was totally drawn in from page one.
The story itself is amazing. Changing the genie from a guy to a girl totally flips the scripts and the dynamics that exist in the Aladdin movie we all know and love. There are some aspects of it that are held over and Khoury plays with those bits she holds over in fascinating ways. And the way having Zahra as the genie alters how the whole story plays out was incredible. Having Zahra and Aladdin's relationship change to accommodate the female genie is so inventi

ve and beautiful to read

.
One of my favorite things is how Khoury changed up the story to make it more feminist. Zhara might be a genie under all kinds of rules, but it never feels like she lacks agency. The princess Aladdin wants to marry is a badass on her own and has her own girl group of fellow badasses. Maybe it's my classes creeping into my fun reading, but it feels a lot like a story of female friendship and women

struggling to gain power and equal footing from men after hundreds of years of being put down.
Basically, I love this book. It's beautiful and creative and full of women and friendships and a wonderful romance and it just brought me so much joy. It's a quick read and it's fun but it's also got all these layers I've been reading into it that make it even more interesting read. I SO recommend picking up this book when you can. And to help in the pr

ocess,
Penguin has been so kind as to offer up a copy of The Forbidden Wish for one of you! You can enter below.
a Rafflecopter giveaway
Good luck!
--Julie