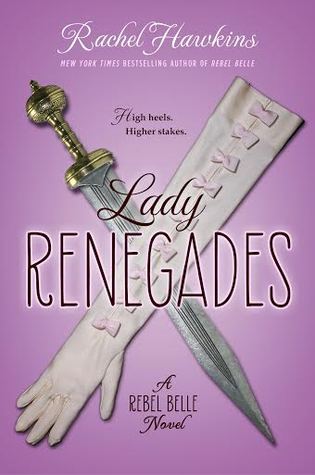 Lady Renegades
Rachel Hawkins
G.P. Putnam's Sons Books for Young Readers
[April 5, 2016]
**this summary and the review will contain spoilers for Rebel Belle and Miss Mayhem**
Just as Harper Price starts coming to terms with her role as David Stark's battle-ready Paladin, protector, and girlfriend—her world goes crazy all over again.

Overwhelmed by his Oracle powers, David flees Pine Grove and starts turning teenaged girls into Paladins—and these young ladies seem to think that Harper is the enemy David needs protecting from. Ordinarily, Harper would be able to fight off any Paladin who comes her way, but her powers have been dwindling since David left town, which means her life is on the line yet again.

Now, it's a desperate race for Harper to find and rescue David before she backslides from superhero to your garden-variety type-A belle.
The way Miss Mayhem ended was mildly (majorly) devastating, so finally getting my hands on this one lead to many squeals and screams of delight and it did not disappoint. I devoured most of it while commuting Thursday and Friday and then couldn't imagine waiting until Monday and finished it off this weekend.
Harper Price is the biggest badass and she does it all in heels. And in Lady Renegades, it includes a road trip to track down the boy she loves who wants her dead. Kinda complicated, you know? But Hawkins managed it well and did what was true to Harper.
I loved especially how this book was so focused on female friendships. Friendships are always important in Hawkins's novels, but this was a straight up supernatural road trip between Harper, her best friend, and her enemy, who all need to work together to have a chance at accomplishing something. This meant that a lot of the focus of the story was on the relationships between these three girls, which have gotten very complicated over the course of the past two books and still aren't easy. Their dynamics and developments and little nods to things the girls know but don't have to say was so strikingly real - so much of my closest friendships is little things that acknowledge how the other feels without discussing it too deeply.
Even though it was a road trip, it was still a paranormal road trip. Lady Renegades didn't slack on the action and the fight scenes and the scares. It was even more captivating knowing that Harper was struggling so there was always that question of how well she'd do and how it'd be figured out. It was fun to read from Harper's perspective and also helped break up the road trip some.
I just loved this book so much. Lady friendships and a fantastic resolution that made sense to the characters and the ever present, very fun, voice-y writing of Rachel Hawkins. This lady knows how to write a book and she really knows how to finish a series. If you haven't read the first two books and just let yourself get spoiled, go back and read the other two. If you've read and loved them, you'll love this one too.
--Julie