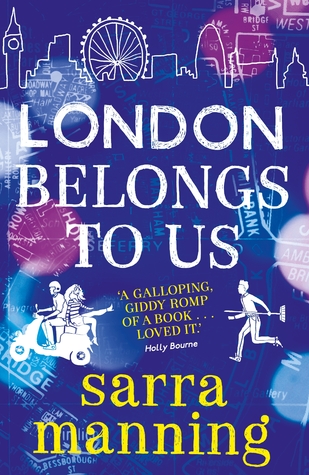 by Sarra Manning
Summary:

Seventeen-year-old Sunny's always been a little bit of a pushover. But when she's sent a picture of her boyfriend kissing another girl, she knows she's got to act. What follows is a mad, twelve-hour dash around London - starting at 8pm in Crystal Palace (so far away from civilisation you can't even get the Tube there) then sweeping through Camden, Shoreditch, Soho, Kensington, Notting Hill . . . and ending up at 8am in Alexandra Palace.

Along the way Sunny meets a whole host of characters she never dreamed she'd have anything in common with - least of all the devilishly handsome (and somewhat vain) French 'twins' (they're really cousins) Jean Luc and Vic. But as this love-letter to London shows, a city is only a sum of its parts, and really it's the people living there who make up its life and soul. And, as Sunny discovers, everyone - from friends, apparent-enemies, famous bands and even rickshaw drivers - is willing to help a girl on a mission to get her romantic retribution..
This book was kind of like London's lighthearted answer to
Nick & Norah's Infinite Playlist
and I pretty much adored it, it was so funny and fun and cute.
When I compare it to Nick & Norah, what I mean is that the city itself almost becomes a character and it's one extraordinary night in the city for a character who sets out searching for something but ends up finding so much more and unexpected along the way...and I love that.
And Sunny? She was awesome. I haven't liked a character so much in a long time, she's the kind of girl that I could see myself being friends with. She was funny and fierce and brave, and I appreciated the bravery even more because it wasn't something that just came naturally to her but she made choices to put herself out of her comfort zone. And her friends were great too. Particularly Emmeline and the French boys (loved Jean-Luc, and Vic made me laugh). And there was so much positive female relationships and it acknowledges the silly ways we (girls) judge each other sometimes, especially when we're younger.
It is the type of story that can be frustrating in the beginning though, because Sunny is in such denial about her crappy boyfriend to start off with and everyone (literally pretty much everyone) tries to get her to see the truth... and it's realistic and understandable, but because I liked Sunny so much (seriously, right from the first page) it was kind of like that feeling you get when you're friends with someone and they're dating someone who isn't even close to being good enough for them and you have to sit there and wait until they figure that out for themselves.
It's one of those books that has laugh out loud moments and makes your face hurt from smiling and occasionally makes your heart ache from cuteness. I'd rate it 4 stars out of 5. I really need to read more of Sarra Manning's books now.
Later.