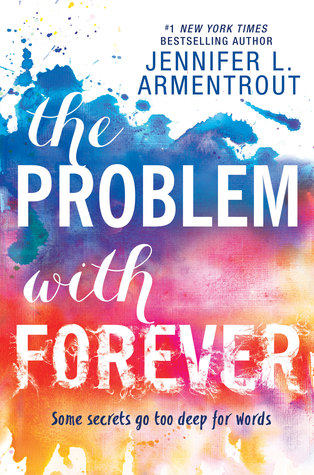 by Jennifer L. Armentrout
Summary: For some people, silence is a weapon. For Mallory "Mouse" Dodge, it's a shield. Growing up, she learned that the best way to survive was to say nothing. And even though it's been four years since her nightmare ended, she's beginning to worry that the fear that holds her back will last a lifetime.

Now, after years of homeschooling with loving adoptive parents, Mallory must face a new milestone—spending her senior year at public high school. But of all the terrifying and exhilarating scenarios she's imagined, there's one she never dreamed of—that she'd run into Rider Stark, the friend and protector she hasn't seen since childhood, on her very first day.

It doesn't take long for Mallory to realize that the connection she shared with Rider never really faded. Yet the deeper their bond grows, the more it becomes apparent that she's not the only one grappling with the lingering scars from the past. And as she watches Rider's life spiral out of control, Mallory faces a choice between staying silent and speaking out—for the people she loves, the life she wants, and the truths that need to be heard.
Jennifer L. Armentrout being the author of this book was the whole reason I wanted to read it -- I've read a few of her books so far and I've really enjoyed all of them. And this one? This one was probably one of my favourites of hers so far and I am so glad that I read it -- I adored it so much.
I loved the characters and the story -- it's one of those ones that's just really cute and while not much happens plot-wise, it never bored me, I was just content to read about the characters and see how their relationship evolved. Mallory and Rider... I loved them individually, but together? I really, really loved their relationship, it was such an adorable bond that they had and I couldn't help but root for them.
The main reason I loved the story though was the way that it dealt with mental health issues. It didn't trivialize anxiety issues and it showed the way that people who have anxiety are sometimes judged or misunderstood (i.e. people assume we're just shy) and it showed that it's not always something that can easily be "fixed" by taking a pill or a few therapy sessions.
And the best part was, it didn't romanticize it either... so many books that have characters with mental health issues (e.g. depression, PTSD, anxiety disorders, etc.) romanticize them in shockingly bad ways. They turn them into quirks that the love interest finds cute or a way to make them "not like other girls" (eugh)... This one didn't do that. Rider never seemed to like her because of her issues or in spite of them, he just liked her as a person -- he's accepting and understanding of her limits and doesn't judge her for them, and he's so supportive and that was one of the things that made me love their relationship so much.
The only thing I didn't love about the book was Mallory's relationship with her adoptive parents. It had its moments of being great but sometimes it felt a little off, a little weird, like she was just their project rather than their daughter -- but I think that was intentional (to an extent), rather than a flaw in the writing, because their relationship does change and evolve. A big part of the weirdness was tied to the way Mallory acted with them, like she was trying to be perfect for them, like she didn't feel their love for her was unconditional...which makes total sense within the story.
So...yes. Jennifer L. Armentrout is definitely on my insta-buy list now -- in fact, I'm going to need to buy this book just so I can have a physical copy on my shelves because I loved it that much (I read it as an e-ARC). If you've not read any of her books yet? Maybe do that now. This one is a good place to start.
I'd rate it 4.5 stars out of 5.
Later.