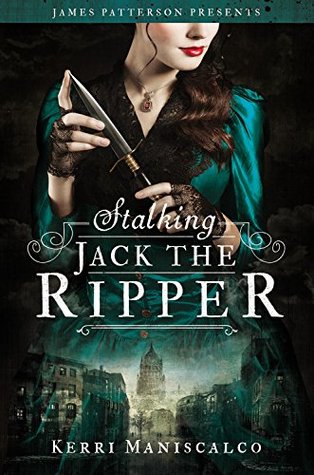 by Kerri Maniscalco
Summary: Seventeen-year-old Audrey Rose Wadsworth was born a lord's daughter, with a life of wealth and privilege stretched out before her. But between the social teas and silk dress fittings, she leads a forbidden secret life.

Against her stern father's wishes and society's expectations, Audrey often slips away to her uncle's laboratory to study the gruesome practice of forensic medicine. When her work on a string of savagely killed corpses drags Audrey into the investigation of a serial murderer, her search for answers brings her close to her own sheltered world.
I am one of the many people who has a morbid fascination with the Jack the Ripper case. I also have a morbid fascination with mortuary work. And I love historical romance, especially ones with feminist heroines who fight against societal pressures.
I was expecting to love this book, is what I'm getting at.
In theory, it ticked so many boxes that interest me...but in execution, it fell kind of flat. I literally fell asleep trying to read this at least 4 times within the first 100 pages, and after that I could only tolerate reading a chapter or two at a time before my mind would start to wander.
Basically, I was bored. The Jack the Ripper stuff wasn't as interesting as it should have been...but that was my mistake for having high expectations there, I didn't factor in that my familiarity with the case would snuff out any suspense there would be in that part of the story. But the fictional aspects of the case original to the book were a bit too predictable -- it's obvious from very early in the book who the bad guy is and who the red herrings are.
And the mortuary stuff, that's something I was most excited to read about in this context but it was minimal (or at least it felt minimal).
The romance was really bland too. I liked the characters enough as individuals, but I was indifferent to them together, there was no spark or build up, no tension or anything and anytime Thomas would say a supposed-to-be-flirty line, it felt off...like it didn't fit in the time period and the line would be more at home in a contemporary novel or something (which isn't a bad thing exactly, it's just that when I'm reading a historical romance, I want it to have that historical vibe to it).
The book got better in the last quarter as far as pace went, although there were still little things that bugged me (the reveal felt kind of sloppy and cliche, the scene with the medium was annoying even if the character was inspired by a real life person -- maybe because I was looking forward to read a story rooted in science, where the protagonist is a forensic scientist... the hints at the paranormal didn't feel necessary).
This review is coming across as pretty negative, but I actually didn't hate the book, I just had high expectations for it and it didn't come close to meeting them. It was an okay book and I can see why other people would love it, but it was just average to me. I'd rate it 3 stars out of 5. I would recommend checking it out if it sounds appealing to you, but it just wasn't the book for me.
Later.