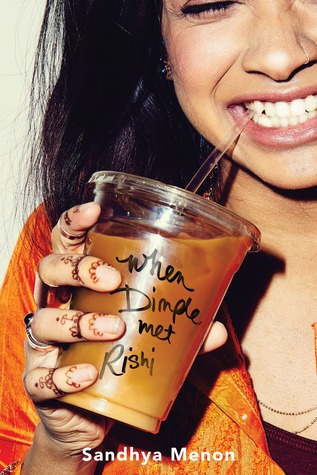 by Sandhya Menon
Summary: Dimple Shah has it all figured out. With graduation behind her, she's more than ready for a break from her family, from Mamma's inexplicable obsession with her finding the "Ideal Indian Husband." Ugh. Dimple knows they must respect her principles on some level, though. If they truly believed she needed a husband right now, they wouldn't have paid for her to attend a summer program for aspiring web developers…right?

Rishi Patel is a hopeless romantic. So when his parents tell him that his future wife will be attending the same summer program as him—wherein he'll have to woo her—he's totally on board. Because as silly as it sounds to most people in his life, Rishi wants to be arranged, believes in the power of tradition, stability, and being a part of something much bigger than himself.

The Shahs and Patels didn't mean to start turning the wheels on this "suggested arrangement" so early in their children's lives, but when they noticed them both gravitate toward the same summer program, they figured, Why not?
I went into this book expecting to love it. It sounded so good and there was so many glowing reviews, I thought there was no way I wouldn't love it. And it did get there in the end, but for the first two thirds of the book I really struggled to get through it.
But anyway, let's start with the positives: the characters.
Rishi? He was a little ball of adorable. I love seeing actual nice guy characters rather than "Nice Guys" (you know the ones...where they think they're good guys and we're supposed to think they're good guys but they're actually really not).

And Dimple? I loved her. I loved that she was strong and complex and realistic, I loved that she was a bit of a steel coated marshmallow at first (reminds me of my best friend in that way). I've seen a lot of people criticise her character for basically being a teenager, for being flawed and realistic, but those reasons many people had for not liking Dimple were a big part of the reason I did like her. I loved her and Rishi together, they were so cute and they balanced each other out.

The book also managed to make me laugh out loud quite a few times (the dancing scene was golden -- if I rated the book purely on that scene it'd be 5+ stars), which doesn't happen very often when I'm reading and I loved that Sandhya managed to make me laugh.
And I really loved that they were both Indian-American. There is countless YA romcoms featuring white protagonists but there's barely any Indian-American representation. That racial and cultural diversity matters, it is so important. It matters that Indian-American teens have books like this they can read and relate to because the characters reflect them positively and I hope to see more of them on the shelves soon.
The reasons I struggled so much with the first chunk of the book: a pet peeve of mine, and the plot.
The pet peeve? I really don't like stories, particularly romance based stories, with alternating POV's and unfortunately this book was not one of the rare exceptions (I wasn't a fan of the way it's done in this, with the POV switches often happening mid-scene, sometimes multiple times in one scene). So that one wasn't an issue with the book, it was just down to personal preference.
As for the plot, it just wasn't as strong as I expected it to be. The pacing felt a bit off, at times it bored me quite a bit. It took a long time to hook me. But again, this is down to personal preference. I'm okay with a romcom not having much to the plot beyond the romance, but the romance has to keep me interested for that to happen and romances that are primarily cute don't really hold my interest well, especially when the couple gets to that point really quickly.

I think my expectations for the coding aspect were a bit too high too, I wanted more from that than it delivered. I was happy about seeing a female character into coding and tech stuff but it fell a little flat there, it was very tell instead of show (Rishi's passion for art was shown much better).

In the last quarter of the book, I found the parts that started to draw me in the most were the scenes that weren't just focusing on the romance...like when Dimple would have chats with Celia or when they talked about their families, or scenes with Rishi and his brother. That was when the book really started to win me over (basically everything from the dance scene onward).
Anyway, I'd rate the book 4 stars out of 5. It didn't quite wow me to the same extent as it did other people, but I loved it in the end, it was absolutely adorable and such an important read. I definitely look forward to seeing what Sandhya writes next.
Later.