I really
like this topic
, it reminds me of Julie's Quiet YA thing.
I'm going to go for ones I don't see talked about often in the book community on social media, and I'll aim for ones with less than a thousand reviews on Goodreads (though some may have more, because a book that's been out for years with 2000 ratings vs a book that's been out for a few months with 2000 ratings are different).
Anyway, enough rambling and onto the books. They're in whatever order I think of them, not in order of preference.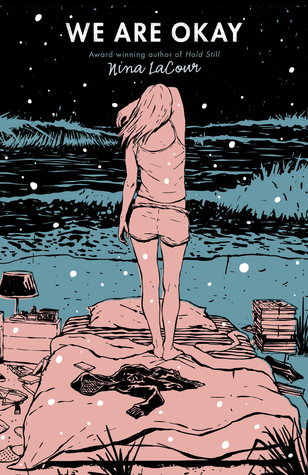 1. We Are Okay by Nina LaCour
This isn't exactly a "hidden" gem based on how many ratings it has, it's just not one I see talked about much. It's a beautiful book and I didn't expect to love it as much as I did (total cover buy), but I adored it. It's about grief, and family, and friendship. The main character is a lesbian and there's bi rep in there too, and it's really not made into A Thing. Like, it's just this thing that quietly exists in the book without the book revolving around it, and I really loved that.
2. The Pearl Thief by Elizabeth Wein
There was a lot of hype surrounding her book, Code Name Verity, and rightly so -- it's fantastic. But I really don't see very many people talking about this little prequel. I loved the book. It's the first book I've read set in Scotland that really felt authentic (often non-Scots can't quite get it), and it has representation of the Traveler community (and shows the prejudices they faced back then and still face to this day). And, my favourite part of all, a lot of readers thought Julie wasn't straight in Code Name Verity (myself among them) and this book makes that canon and again, it's not made into a huge deal and I loved that.
3. You Were Here by Cori McCarthy
This book is about grief and friendship (and a little romance) and it's executed beautifully. Some of the character POV's are in an illustrated format rather than written and I loved that, it fit the characters so well (and also made the POV switches more appealing -- I'm normally quite put off by books with multiple narrators but this worked).
4. Made for You by Melissa Marr
I've had issues with some of Melissa's previous books, but I remember really enjoying this one. It was a pretty fun thriller read. It's about a girl who wakes up in hospital to find someone tried to kill her.
5. Jessica's Guide to Dating On the Dark Side by Beth Fantaskey
Like We Are Okay, this one isn't really unheard of. But it's not talked about much anymore because it was released back in 2009. I remember really loving the book at the time, and I still think it's one of the more original vampire romance novels I've come across. I really want to reread it at some point, just to see if it's as good as I remember.
6. Nevermore by Kelly Creagh
I rarely ever see this one talked about/recommended (probably because it came out in 2010), but I loved this book. It has one of my favourite romance tropes -- the popular kid and the outcast -- and one of the most original fantasy/urban fantasy twists I've ever read. It revolves around Edgar Allan
Poe's work and it's just...I loved it.
7. Bleeding Violet by Dia Reeves
I don't remember much about this book except that I really enjoyed it and it had vague Alice in Wonderland vibes. And, again, there was just something really original about it (it's another 2010 release -- the post-Twilight and Hunger Games years, where the shelves were flooded with supernatural romance and dystopian fiction, and a lot of them felt quite similar, so anything that did something different stood out to me).
8. Peter and Alice by John Logan
I don't see many plays recommended and discussed in the book community, especially not the YA one, but this one is really really good -- and it's a particularly good one because even if plays aren't your thing, it's about the real kids Peter Pan and Alice in Wonderland were based on so it has those literary references to make it interesting.
9. The Year of Secret Assignments (a.k.a. Finding Cassie Crazy) by Jaclyn Moriarty
I really didn't expect to enjoy this series as much as I did, but it's really good. This is technically the second book, but it can be read on its own. The book is told through letters and diary entries and messages between three friends in Australia and three boys from another school in town as part of a pen pal thing their English teacher sets up (the letter style usually isn't my thing, but it's done really well in this one).
10. Black Dove, White Raven by Elizabeth Wein
Second of her books on this list. This one is about an adoptive brother and sister. One is black, one is white. Their mothers were best friends (tbh, I think they were more), and when one dies, the other raises her son. The book is about family, and female pilots and about war and Ethiopia.
Bonus:
The Piper's Son
by Melina Marchetta
I was surprised this one didn't have more reviews (only 1320 and it's been out for 7 years), it's one of my favourite Melina Marchetta books (it's a companion to her earlier book, Saving Francesca).
Later.