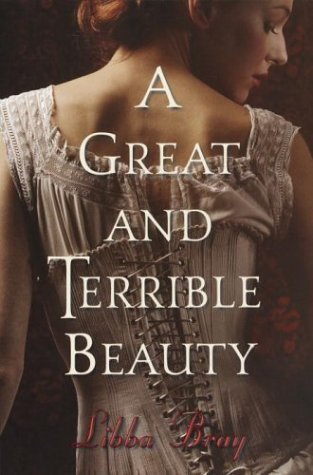 A Great and Terrible Beauty
by Libba Bray
Summary: Sixteen-year-old Gemma has had an unconventional upbringing in India, until the day she foresees her mother's death in a black, swirling vision that turns out to be true. Sent back to England, she is enrolled at Spence, a girls' academy with a mysterious burned-out East Wing.

There Gemma is snubbed by powerful Felicity, beautiful Pippa, and even her own dumpy roommate Ann, until she blackmails herself and Ann into the treacherous clique. Gemma is distressed to find that she has been followed from India by Kartik, a beautiful young man who warns her to fight off the visions. Nevertheless, they continue, and one night she is led by a child-spirit to find a diary that reveals the secrets of a mystical Order.

The clique soon finds a way to accompany Gemma to the other-world realms of her visions "for a bit of fun" and to taste the power they will never have as Victorian wives, but they discover that the delights of the realms are overwhelmed by a menace they cannot control. Gemma is left with the knowledge that her role as the link between worlds leaves her with a mission to seek out the "others" and rebuild the Order.


This is a book that I have been trying to read for years. I've started reading it a whole bunch of times but kept giving up on it. Everyone seems to gush about it, including people whose judgement I trust. I saw so many positive reviews of it that I bought the whole trilogy before I had even read the first one... Now that I've
finally
finished it, I can honestly say that I just don't get it.
I don't get what it is about this book that people love so much, because personally, I found it extremely boring at worst and average at best (and the "at worst" part made up the majority of the book). It took until the last 60 or so pages for it to
kind of
hook me but even then, it was just interesting in comparison to how uninteresting the rest of the book was and not actually what I'd consider good.
Gemma annoyed me sometimes and the rest of the time I was pretty indifferent to her, I think there was only a handful of pages where I could genuinely say that I liked her character. And the other characters...well, I appreciate that they're flawed and their relationships aren't perfect, it made it more realistic but I just didn't
like
any of them enough to actually care what happened to them.
Kartik was probably the most interesting character to me, but his presence in the book was minimal (maybe that's why he was the most interesting--he wasn't really given much chance to bore me).
I didn't like the plot much at all...I can't really pin point why, it just felt like something was missing, there was no spark. I never felt swept up in this world, it was just bland when it really shouldn't have been. Nothing hooked me or kept me interested, nothing surprised me and too many twists were easy to guess almost as soon as they were introduced and then we'd have to wade through pages and pages of the characters not having a clue.
Basically, the book left me very underwhelmed. I'd rate it 2.5 stars out of 5...it may have been lower, but I think the high expectations played a part in how disappointing the book was--when everyone seems to
love
a book while you're struggling to find things you even
like
about it, it makes reading it more frustrating.
I think this may just be one of those times where an author just isn't my cup of tea. I think Libba Bray is fabulous (from what I've seen of her online), but something about her books just doesn't click with me. I may give the rest of the series a chance, purely because I own them already, but I'm not really optimistic about them at this point.
Later.