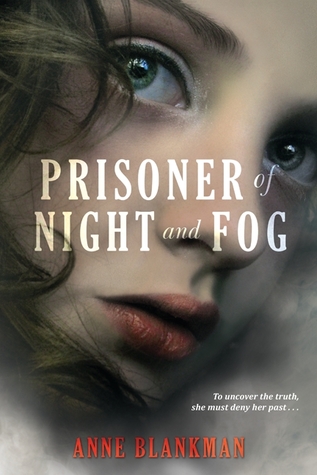 Prisoners of Night and Fog
Anne Blankman
Balzer + Bray
[April 22, 2014]
egalley from Edelweiss/ARC provided by publisher
In 1930s Munich, danger lurks behind dark corners, and secrets are buried deep within the city. But Gretchen Müller, who grew up in the National Socialist Party under the wing of her "uncle" Dolf, has been shielded from that side of society ever since her father traded his life for Dolf's, and Gretchen is his favorite, his pet.

Uncle Dolf is none other than Adolf Hitler. And Gretchen follows his every command.

Until she meets a fearless and handsome young Jewish reporter named Daniel Cohen. Gretchen should despise Daniel, yet she can't stop herself from listening to his story: that her father, the adored Nazi martyr, was actually murdered by an unknown comrade. She also can't help the fierce attraction brewing between them, despite everything she's been taught to believe about Jews.

As Gretchen investigates the very people she's always considered friends, she must decide where her loyalties lie. Will she choose the safety of her former life as a Nazi darling, or will she dare to dig up the truth—even if it could get her and Daniel killed?

From debut author Anne Blankman comes this harrowing and evocative story about an ordinary girl faced with the extraordinary decision to give up everything she's ever believed . . . and to trust her own heart instead.
I didn't know what to expect going into Prisoners of Night and Fog, but I was intrigued by the premise. I got an egalley because of my interest, then one of my favorite editors sent me a package of some of her 2014 books, including an ARC of this, so I knew reading it had to come sooner rather than later. It was an excellent life choice. Everything about this book was stunning.
The story was incredible. There were high stakes by the very nature of dealing with Hitler. Things progressed slowly in the story since so much of it was Gretchen coming to terms with the truth and finding evidence, but every step was dangerous and had to be well thought out. That constant threat made for a thrilling page turner that was hard to put down.
The characters were probably my favorite part. It was a rich cast filled with die-hard Hitler supporters to the most fervent dissenters with fascinating dynamics. Hitler's relationship to everyone was incredibly interesting. Hitler became an almost likable character at times - just a charismatic human looking out for his country - but the menace was underneath his words and actions. Gretchen was built in a way that you could understand how Germans fell for Hitler - why she did. She was never unlikable, just naive and grateful and desperate for solutions to her families problems that Hitler was providing. Watching her discover the truth and unravel the world she knew was how we watched her develop into an extraordinary and brave woman.
Then there was Daniel. He may be in my Top 5 Swoony Boys list because I have weird standards of swoony. He was dedicated and loyal, intelligent and kind. He cared so much about the truth and helping to stop Hitler - but he also cared about Gretchen so much. He cared about getting her the truth and making her see the light and doing what was best for her. Their romance was the greatest and I just adored him and their plot line.
The writing was beautiful and vivid. It was a gorgeous read and I could really picture so much of it. I could see this Germany in my head, which doesn't happen that often. It was magnificent and I'm dying for more of Anne's words, especially knowing that the next words will be the sequel to Prisoners of Night and Fog.
Basically, this is a gorgeously written, thought provoking, intricate historical fiction YA with an amazing romance. If you can tell me none of that interests you, my reviews might not be for you. I fell in love with this book so hard that it's easily one of my top reads of the year and I will preach it ALL OVER THE PLACE. Seriously. Go acquire this book pronto. I'll wait for you to thank me.
--Julie