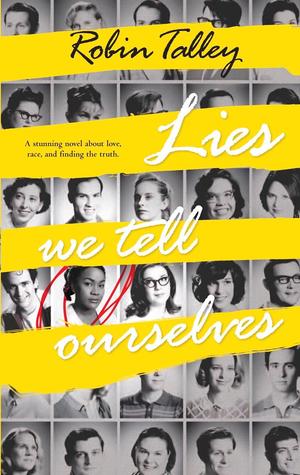 Lies We Tell Ourselves
Robin Talley
HarlequinTeen
[September 30, 2014]
In 1959 Virginia, the lives of two girls on opposite sides of the battle for civil rights will be changed forever.



Sarah Dunbar is one of the first black students to attend the previously all-white Jefferson High School. An honors student at her old school, she is put into remedial classes, spit on and tormented daily.

Linda Hairston is the daughter of one of the town's most vocal opponents of school integration. She has been taught all her life that the races should be kept "separate but equal".

Forced to work together on a school project, Sarah and Linda must confront harsh truths about race, power and how they really feel about one another.

Boldly realistic and emotionally compelling, Lies We Tell Ourselves is a brave and stunning novel about finding truth amid the lies, and finding your voice even when others are determined to silence it.
Everything about Lies We Tell Ourselves is heartbreaking.
I mean, think about this. Not only is this the story of Sarah and Linda, a black girl and a white girl, during a time when segregation was being forced to end, but it's also the story of two girls discovering their sexuality in a time when you didn't get a choice.
From the opening pages, I was wrecked by this novel. Robin Talley describes the setting and the reactions with such brutal honesty it hurts to read, but you can't turn away. Especially when you remember it was real. These things actually happened. Kids were treated this way, talked to this way, on a daily basis. I was destroyed. I would've run away. Yet I was also admiring these kids, Sarah and her sister, for getting through it and I had to know how. The rest of the story continued to be painful and honest and so important and well written.
Sarah and her classmates were so remarkable. They were afraid and intelligent and determined. They were brave enough to do this, partially because their parents wanted them to. Talley vividly describes everything they go through without pulling punches and it's such a horrifying yet amazing thing.
Then there was Linda who I alternated on wanting to strangle and understanding. I understood how she could've been taught all that she had and why her twisted had been thinking. Especially when it's your parents. You want to believe everything your parents say and you want to think they're right, and it's a lesson all its own to learn that isn't true. Yet on the other hand HOW COULD SHE NOT GET THIS? How could she NOT get what Sarah was saying? But she was still likable, still trying to learn whether she realized it or not, but ugh. SUCH a well built character. Sympathetic yet fury-inducing.
The perspectives were really key in building these characters. Linda showed Sarah as somebody who was sarcastic and incredible at debating her perspective, but showed herself as someone who was confused and unsure about everything she knew. Sarah showed Linda as stubborn and disagreeable but herself as someone who was quiet and boiling over with frustration, but doing her best to keep it inside.
And have I mentioned it was well written? IT WAS SO WELL WRITTEN. A story like this NEEDS good writing to make sure the racism stays forefront, but the romance is still there and the character development is still there and the character BUILDING is still there because that was an art in itself.
I'm not sorry. This book gave me all the feels. And I'm trying not to spoil anything major but that's hard but everything in this book is SO GOOD.
It does have some REALLY strong language, so if that's not your thing, cool beans! OTHERWISE GO READ THIS BOOK. GO BUY IT. GO PRE-ORDER IT. GET IT. ACQUIRE IT SOMEHOW. TELL OTHERS ABOUT IT. IT. IS. SO. GOOD.
--Julie