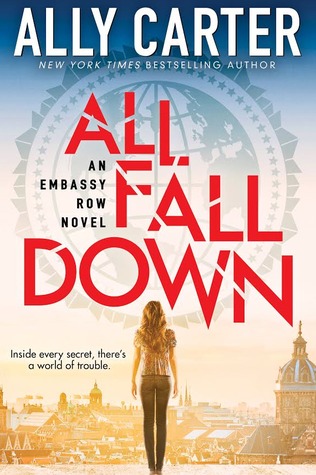 All Fall Down
Ally Carter
Scholastic Press
[January 20, 2015]

A new series of global proportions -- from master of intrigue, NEW YORK TIMES bestselling author Ally Carter.

This exciting new series from NEW YORK TIMES bestselling author Ally Carter focuses on Grace, who can best be described as a daredevil, an Army brat, and a rebel. She is also the only granddaughter of perhaps the most powerful ambassador in the world, and Grace has spent every summer of her childhood running across the roofs of Embassy Row.

Now, at age sixteen, she's come back to stay -- in order to solve the mystery of her mother's death. In the process, she uncovers an international conspiracy of unsettling proportions, and must choose her friends and watch her foes carefully if she and the world are to be saved.
I haven't read many Ally Carter books - 1 to be exact. But I really enjoyed the one I read (Heist Society) and I've heard wonderful things about her other series, so I knew this would be good. But I didn't quite expect what I got from this.
For one thing, I could be wrong here, but I think All Fall Down is darker than the other books Ally has written. Grace isn't doing well after her mother's death and she's not doing well being back with her grandfather and that showed in her actions and in her thoughts. And I loved that. I loved seeing this darker edge to the story brought on by Grace's grief and how she wasn't just the usual kind of sad about it. It sunk into her life and what she wanted.
Ally Carter is also kind of a genius when it comes to mysteries. She crafted this incredibly conspiracy that was amazing and twisty and I never knew where it was going to go. It was genuine mystery the whole way through and it's left me aching for book 2 because I need to know what's next.
I loved the cast Ally created too. Grace was so easy to connect to and she had this really interesting team around her of other Embassy kids and her grandfather. And there were definitely some interesting developments going on with some of those other kids.
I don't have much to say about this book except to repeat how much I loved it over and over again. It was phenomenal, more than I ever expected from it. And not picking it up would be a mistake.
--Julie