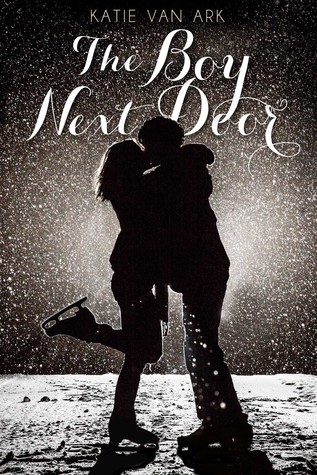 The Boy Next Door
Katie Van Ark
Swoon Reads
[January 6, 2015]
Maddy Spier has been in love with the boy next door forever. As his figure skating partner she spends time in his arms every day. But she's also seen his arms around other girls—lots of other girls.

Gabe can't imagine skating with anyone but Maddy, and together they have a real chance at winning some serious gold medals. So, he's determined to keep thinking of her like a sister. After all, he's never had a romantic relationship that lasted for more than two weeks.

But when their coach assigns a new romantic skating program, everything changes. Will this be the big break that Maddy's been hoping for or the big breakup that Gabe has always feared?
I enjoyed A Little Something Different from Swoon Reads, so I was really excited to see what they'd do next and another cute contemporary with a boy next door premise sounded like a perfect next step. So while I was still in my de-stress from finals mode and couldn't handle the heavier reads, this was the first book I turned to and it was absolutely perfect.
This is one of the tropes that I totally adore and I'm probably kind of biased to love when I read them, but it's still rather uncommon in YA (why????). So, if it wasn't clear, I loved watching it play out in The Boy Next Door. It came in pretty quick and was one of those unrequited crushes, which isn't my favorite way of going about it when the protagonist is already in love, but we got both perspectives, so I still got that falling in love aspect. The way it was introduced was also unusual and lovely, having it all stem from their skate program.
There was also this really great character development from both of them. Gabe had to open his eyes and seriously consider what a real relationship requires, while Maddy had to learn to not rely on Gabe all the time. They both had to make these big leaps and Maddy also had some family issues going on while everything's happening with Gabe that rocked her world, so she had to handle that as well, which really helped build her character arc.
The story itself could've used some trimming. There was a lot of back and forth on whether or not Gabe could handle this relationship, but they had these other components woven in to balance out the story and help it feel too ridiculously repetitive. There were some side characters I loved and plot lines that went with them that I appreciated seeing in the story. Maddy's was one and it was pretty major, but Gabe's was smaller. It addressed the stereotype that male skaters are all gay and turned it around a bit in a thoughtful, though sometimes over the top, way.
This wasn't necessarily an award winner, a life changer, or a favorite book of all time, but it was the exact book I needed to read when I read it, so it's going to stick with me. It was incredibly adorable and sometimes a little sexy and I instantly wanted to see what Katie Van Ark will publish next. When you're ready for something sweet or need a little break, this is definitely the read to pick up next.
--Julie