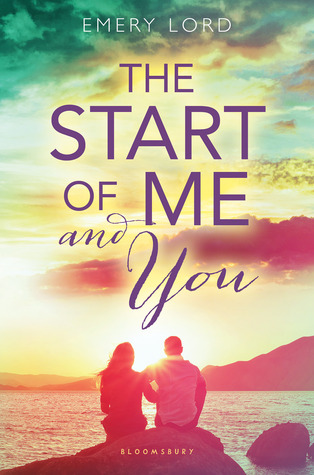 The Start of Me and You
Emery Lord
Bloomsbury USA
[March 31, 2015]
Borrowed ARC/ARC from publisher
Following her pitch-perfect debut Open Road Summer, Emery Lord pens another gorgeous story of best friends, new love, & second chances.

It's been a year since it happened—when Paige Hancock's first boyfriend died in an accident. After shutting out the world for a year, Paige is finally ready for a second chance at high school . . . and she has a plan. First: Get her old crush, Ryan Chase, to date her—the perfect way to convince everyone she's back to normal. Next: Join a club—simple, it's high school after all. But when Ryan's sweet, nerdy cousin, Max, moves to town and recruits Paige for the Quiz Bowl team (of all things!) her perfect plan is thrown for a serious loop. Will Paige be able to face her fears and finally open herself up to the life she was meant to live?

Brimming with heartfelt relationships and authentic high-school dynamics The Start of Me and You proves that it's never too late for second chances.
I think I've continuously called Emery Lord's first book, OPEN ROAD SUMMER, the book of my heart that someone else wrote on my behalf, and then I read THE START OF ME AND YOU.And man guys. It's like Emery Lord can see into my soul and pull out exactly the books I need.
I should've known it would happen as soon as she started talking about Max when I went on fangirling raves about OPEN ROAD SUMMER. Because Max. Oh Lordy Max. I can't even talk about him without getting a little swoony.
One of my favorite things is that Emery Lord rights first and foremost about friendships. The romance is incredibly sweet and swoony and sexy, but she just builds these incredible relationships between people, that either are friendships or are based in friendships. They're so interesting and realistic and soul-touching. Emery is a master of relationships of all kinds and the ones in Paige's life are remarkable.
And Paige. Oh Paige. This girl. I've never been in a situation like hers, but guys, I FELT her. She was so vivid and lifelike and beautiful and wonderful. I want to be her best friend and I want to hug her and I want her to tell me how to live my life.
I just read Emery Lord books and I'm so blown away. Emery gets being a teenager. She gets being a girl. She gets being me, despite having had maybe two conversations ever. It's amazing and it makes me want to reread her books over and over again. I've been aching to reread it since I put it down months ago.
If you care about yourself and your soul, you should pick this up. And if you care about the other women in your life, you should also buy copies for them. This is easily one of my top books and I will forever be buying all of Emery Lord's books and getting them signed ASAP and keeping them as treasured parts of my book collection.
--Julie