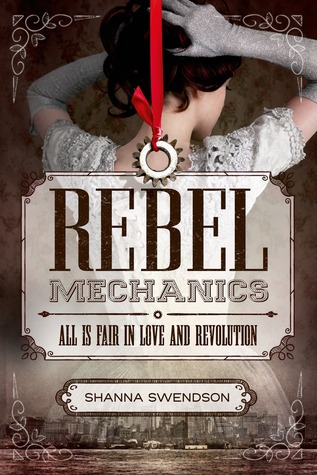 Rebel Mechanics
Shanna Swendson
Farrar, Strauss, and Giroux Books for Young Readers
[July 14, 2015]
A sixteen-year-old governess becomes a spy in this alternative U.S. history where the British control with magic and the colonists rebel by inventing.

It's 1888, and sixteen-year-old Verity Newton lands a job in New York as a governess to a wealthy leading family—but she quickly learns that the family has big secrets. Magisters have always ruled the colonies, but now an underground society of mechanics and engineers are developing non-magical sources of power via steam engines that they hope will help them gain freedom from British rule. The family Verity works for is magister—but it seems like the children's young guardian uncle is sympathetic to the rebel cause. As Verity falls for a charming rebel inventor and agrees to become a spy, she also becomes more and more enmeshed in the magister family's life. She soon realizes she's uniquely positioned to advance the cause—but to do so, she'll have to reveal her own dangerous secret.
So, I was excited for this book for a long time. As in, I first heard about it when I was an intern there in winter 2014. It sounds totally my speed and I requested a copy when the opportunity came. Then in the month or so before pub, a lot of my Trusteds brought it back to my radar with their excitement. In my intense summer slump, I had to read it. My love for this read was so, so unexpected.
I adored Verity and her voice. She had this fun, light voice that made her stick out from a lot of other rebel heroines. Usually, they're dark and gritty and unwillingly take on their role. Verity was bubbly and naive and didn't even realize what was happening. I know that happens fairly often with these rebels, but seriously. The execution here made such a difference. Verity just was a shining light of a heroine.
The premise is incredibly intriguing to me. Alternative history like this just isn't popular in YA and I don't know why. This alternative history mixed with rebel groups and machinery and magic mixed with The Nanny and I'm just SO PLEASED by what happened. There were twists involved, some that were obvious and one in particular was just SHOCKING to me. I had no idea it was coming but it totally made sense.
Also the romance was super adorable. I mentioned The Nanny earlier, which is still one of my favorite shows, and the dynamic played in to it heavily. I loved it and I loved them together and I think that's what really clinched the deal for me. I'm a sucker for adorable romances and this one was really an A+ job in that department. I'm dying for book two mostly so I can read more about it.
Honestly, this book was fun and adorable and exciting and romantic and gripping. I read it in one day, which is the highest compliment I can give to a book these days. I'm so incredibly excited about the next book and highly recommend picking this one up as soon as possible! It definitely stands out as a favorite for me.
--Julie