Hello lovely readers! Today kicks off a new feature on the blog in which we feature backlist books. But instead of just reviewing them - which is also on the plan book for 2016 - I thought it'd be fun to interview or have guest posts by the authors specifically to focus on their pre-2015 releases. To start things off, Lauren Morrill is here to celebrate the two year anniversary of the release of Being Sloane Jacobs.
In your own words, how would you pitch/describe Being Sloane Jacobs?
Sloane Emily Jacobs is a former world-class figure skater with a Senator father. Sloane Devon Jacobs is a hard-hitting hockey player with an alcoholic mother. When they meet by accident on the way to sports camp, they decide to switch places for the summer, each in hopes of escaping her own problems. Told in alternating perspectives, it's a little bit of The Parent Trap meets a little bit of The Cutting Edge.
Were there any specific things that inspired Being Sloane Jacobs?
A lot of Being Sloane Jacobs came from my years playing roller derby. I wanted a chance to tell the stories of the women I'd skated with: competitive, driven, aggressive, and fiercely loyal to their sport and the people that play it. I wanted to show that girls who play sports, even a sport considered graceful and gentle like figure skating, are tough and strong. I've also always loved swap stories, so having the girls switch places was a lot of fun to write! The book is also set in Montreal, one of my favorite cities, so it was fun making a trip up there and eating tons of poutine. You know, for research.
How did you feel about releasing Being Sloane Jacobs in the months leading up to it?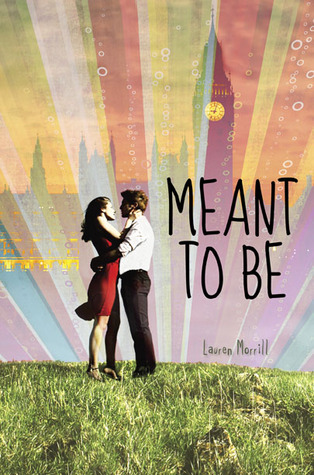 I was nervous, because BSJ was so different from Meant to Be. MTB was more of a straight romance. BSJ, though it has romance in it, is more about friendship and family. But at the same time, I was really proud of BSJ, and I loved writing it, so I felt confident readers would enjoy it. I know authors aren't supposed to have favorites, but I won't lie. Being Sloane Jacobs is mine.
How was releasing Being Sloane Jacobs different from releasing Meant to Be or The Trouble with Destiny?
Sloane was probably my quietest release thus far. Meant to Be made a pretty big splash, with that iconic cover. Plus, I was a debut, and now that I've been doing this a while, I realize how much excitement there is around debut novels. Sophomore novels can kind of get lost, and I feel like Sloane did. Sometimes I meet fans who love Meant to Be who didn't even know Sloane existed! Which is a bummer, but I hope they're finding it now. It's a book that's really close to my heart, and I think it's probably the one that has the most of me in it.
Have you considered writing a sequel or companion to Being Sloane Jacobs?
I know where Sloane Emily and Sloane Devon are now (and Nando and Matt!), but I don't know if there will ever be a sequel. I'd love to have the characters pop into another story down the road, though! It would be fun to check in with them.
Now that The Trouble With Destiny is out in the world, I'm starting to focus on My Unscripted Life, which comes out in October 2016. It's a return to my roots, with a straight-up contemporary romance that takes place in a small southern town where a movie has come to film. I've got a cover release coming soon!
You can learn more about Being Sloane Jacobs here, more about Meant to Be here, more about The Trouble with Destiny here, and more about Lauren here.
So, you're really interested in reading up on Lauren's books now, right? WELL, Lauren has been kind enough to offer up a signed copy of Being Sloane Jacobs to one of you! Just click through to the Rafflecopter below - as long as you're over 13 and a resident of the US.

a Rafflecopter giveaway