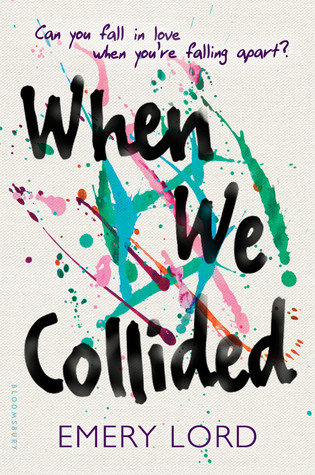 When We Collided
Emery Lord
Bloomsbury USA Children's
[April 5, 2016]
ARC from a friend/egalley from Netgalley
Meet Vivi and Jonah: A girl and a boy whose love has the power save or destroy them.

Vivi and Jonah couldn't be more different. Vivi craves anything joyful or beautiful that life can offer. Jonah has been burdened by responsibility for his family ever since his father died. As summer begins, Jonah resigns himself to another season of getting by. Then Vivi arrives, and suddenly life seems brighter and better. Jonah is the perfect project for Vivi, and things finally feel right for Jonah. Their love is the answer to everything. But soon Vivi's zest for life falters, as her adventurousness becomes true danger-seeking. Jonah tries to keep her safe, but there's something important Vivi hasn't told him.
I've loved Emery Lord's books for a long time and with a burning passion. Emery is an amazing feminist who is really connected to what it's like to be a teen and female relationships and mental illness and because she gets all of these things so well, it shines through in her writing. I always feel really connected to her books, but When We Collided was a whole new level of connection. I read most of this while commuting to and from school and had to close the book several times or risk crying.
Most of that is because I saw so much of me in both Vivi and Jonah. Like Vivi, I've been dealing with mental illness for a long time and she's so open with herself about it, though not with others. So many of my ups and downs and descriptions of how it feels were reflected in Vivi's narrative and it was an incredible, validating experience. So few YA books really capture what it's like in the head of someone with a mental illness and getting to read this was like being seen and realizing my thoughts aren't normal, but they aren't uncommon either. Jonah, on the other hand, has to take on a parental role in his family. I didn't lose a parent, but I think I've mentioned before that I did end up taking a very parental role for my younger brother. My mom couldn't be around a lot and my dad isn't the best at being a dad, so while in middle and high school, I was often the one who enforced rules and made sure things got done and fed my brother dinner. And because I was around, even now that I'm not, I still have a really close bond with my brother, despite the ups and downs, and Emery really captured those experiences with Jonah. Taking on responsibility you're not prepared for and trying to balance family and life and the weirdness of a sibling-but-parent relationship. I've seen it a few times in YA, but it always draws me in.
Vivi and Jonah were so fundamentally different but they worked together so well, despite everything. They were vivid, full characters and I want to talk more about them and their relationship and how it all works, but I don't want to spoil anything. Just trust me on this, it makes sense.
Emery is also just so good at balancing a variety of relationships within a novel. Jonah has a lot of siblings and each relationship with them was distinct, as well as the ones he had with his mom, his dad's old coworker, some neighbors - each one had a weight and a meaning. Similarly, Vivi's take on the world creates a lot of relationships for her and some of them are more difficult than others, but you can still feel the emotion in them. When We Collided does not have a small cast of characters, but even the minor ones had distinct personalities and relationships with the main characters.
Emery's writing is also just so fluid and beautiful. She really gets into the heads of her characters and brings their voices to life and it's just such a joy to read, even when it hurts. There's so much passion and emotion and realness in every line, with her feminism and her love of women woven throughout.
I really want to be able to approach this review as an unbiased reader, but it's just not possible. I loved this book so much that it physically hurt me to read at times because it understood me in a way so few books have. This book could be a garbage fire, but because of my personal connections to Vivi and Jonah - which inherently has to include how well Emery portrays them - I would love it anyway. It took me maybe 10 pages to realize there was no way I would not be a complete fangirl for this book. Maybe there's a flaw in this book somewhere, but I might try to fight you if you point it out to me. Emery is an autobuy author and kind of my role model and if you need me, I'm gonna be buying 5,000 copies and editions of this book and pre-ordering every other book she writes.
Basically, you need to read it and join my fangirling club and if you choose not to, we probably shouldn't talk anymore.
--Julie