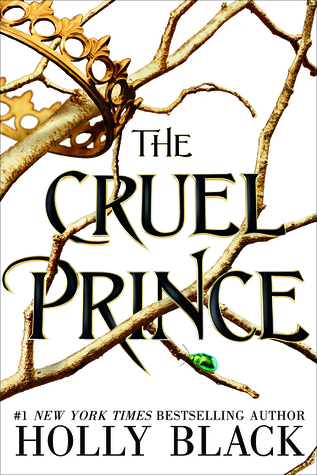 by Holly Black
Summary: Jude was seven years old when her parents were murdered and she and her two sisters were stolen away to live in the treacherous High Court of Faerie. Ten years later, Jude wants nothing more than to belong there, despite her mortality. But many of the fey despise humans. Especially Prince Cardan, the youngest and wickedest son of the High King.

To win a place at the Court, she must defy him–and face the consequences.

In doing so, she becomes embroiled in palace intrigues and deceptions, discovering her own capacity for bloodshed. But as civil war threatens to drown the Courts of Faerie in violence, Jude will need to risk her life in a dangerous alliance to save her sisters, and Faerie itself.
Wel
l then. This is definitely my favourite book in a long time. I loved it so much that before I'd even finished reading it, I bought four more Holly Black books (this was my first -- how have I waited this long to read her books?!).
The characters and relationships were wonderfully complex and the story was delightfully dark and twisted. I was thoroughly addicted from page one.
I adored Jude as a narrator -- she was a bit of an antihero and I loved that so much and I loved the way it showed how she and her sister learned to navigate this world in such different ways. I loved the way it showed that they didn't fit in because they weren't fae, but they didn't fit in with humans either because they were raised as if they were fae.
I really, really loved the messed up relationship between Cardan and Jude too, hate-to-love relationships are my favourite and this one was particularly twisted and definitely a slow burner -- I need the next book to see what happens there.
If you've ever finished a book and just wanted to cry because you desperately need the sequel right then and there, then you'll know how I felt finishing this book. Waiting a whole year for the next one is not going to be fun (but hey, at least I have a stack of Holly's other books to read until then).
I'd rate this one 5 stars out of 5.
Later.